Greg Landsman Helps Kids Succeed
Today I would like to introduce you to a man absolutely deeply passionate about making a positive difference in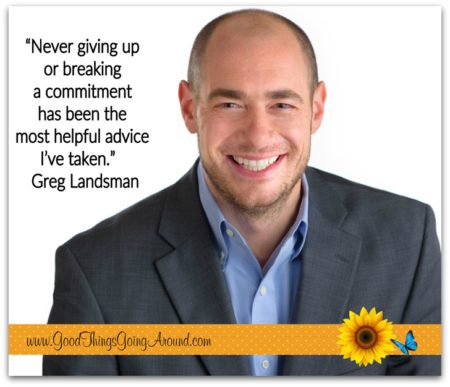 this world, and in the future of our children. Most recently, Greg Landsman has been leading two very significant education initiatives: the Cincinnati Preschool Promise, an effort to provide every child with two years of quality preschool, and the Every Child Capital philanthropic venture fund, which invests in high impact and scalable interventions for children (parentally through age 9) that can also attract sustainable, public funding.  I first met him when he was leading The Strive Partnership, an education consortium of providers and funders working together to improve academic achievement along the education continuum in the urban core of our region. In 2015, at its annual convening in Minneapolis, StriveTogether announced him as the 2015 Bill Henningsgaard Cradle to Career Champion Award recipient for his outstanding work.
In an announcement of his honor, Greg had this to say, "We have the privilege to inspire people to work differently together, determined to change outcomes. They know that when they work together, kids will do better. Thousands of children could have a better future because of what we do, how we do it, where we spend our money, our time, and whether we always strive to get better at our work."
You could say, Greg's instinct for serving others runs in his family. His maternal grandfather, Gordon Block Jr., served in the U.S. Medical Corps with the 101st Airborne Division during WWII; and was awarded three battle ribbons and a Purple Heart medal for his time as a POW. Greg's paternal grandfather, Herb Landsman, ran the Greater Cincinnati United Way's 1976 campaign as an executive vice president of Federated Department Stores, now Macy's. As for his parents, Greg's mother Lee Hamill spent most of her career as a classroom teacher and college professor; and his father John Landsman served for over ten years on both the Board and Executive Committee of the Cincinnati Chapter of the American Red Cross.
Let's learn more about him.
Lisa: Please tell us more about Greg Landsman on a personal level.
Greg: I am first a father and husband, something I get a lot of joy from although I take both roles very seriously. I've been blessed with a wonderful marriage, and two healthy, wonderful children.  After that, I'm someone who believes in a personal responsibility to help others achieve meaningful change in partnership with those who need change the most – particularly those who have been marginalized and left out.
Pursuing change in partnership with those who need real change is my purpose, beyond being a good father and husband, and it comes from two places.  It comes from a deep and personal relationship with God, and the expectations that I believe God has for me to do as much as I can to change whatever needs to be changed in order for there to be real justices and fairness.
It also comes from my intellectual commitment to equality and justice, and what I know to be the very serious moral and economic implications of establishing real fairness for everyone.
Lisa: Where did your inspiration come from for your career path?
Greg: My inspiration comes from God, and my understanding of what is expected of me, but also my parents.  My faith is probably the biggest driver of why I do what I do.  That said, I have exceptional parents.  My father is an incredibly hard worker who cares about the people he works with and for.  My mother spent her career working with students with disabilities, recognizing the talents and dignity in each in ways that continue to inspire me today.  My step-father, an anthropologist, had us out on Indian reservations out west most summers growing up. Each summer I was exposed to the harshness of the injustice and the incredible power of those who care enough to help.  My step-mother is someone who also has an unwavering commitment to fairness.
My parents have this in common: they believe in fairness and know that for millions, things just aren't fair.  We need to change that.
Lisa: What are some of your accomplishments professionally and personally for which you are most proud?
Greg: Having a good marriage and being a reliable and committed father is something I'm proud of.  It's to be expected, I know, but far too often we overlook just how important being a good partner and parent really is, and I am glad it's been a priority for me.
I also spent time teaching, and I m very proud of the time I was in the classroom.  Teachers deserve much more praise and pay, and I ll always be a strong advocate for educators.
Going to Harvard was always a dream of mine, so being able to do so and graduate with a master's in theological studies is something that I'm proud of.  The same is true for Ohio University and the degrees I have in economics and politics science.  I worked hard for my degrees, but I also recognize how fortunate I was to be able to access these two universities and have the supports I needed to be successful.  Most students don't have that.
Being appointed by the Governor to run the Office of Faith-based and Community Initiatives was an honor, and I'm proud of the fact that we cleaned up the office and restored its reputation (it had previously been under investigation for the misuse of public funds).  I'm also proud of the fact that we invested tens of millions of dollars into highly effective efforts to help those previously incarcerated find work, children find mentors and summer learning and food programs, and adults struggling with poverty access a supportive network of people and resources previously unavailable to them.
I'm also proud of what we've been doing locally to dramatically improve the lives of some of our youngest children.  We've advanced the Cincinnati Preschool Promise to a point where voters will have the opportunity to invest in two years of excellent preschool for children – particularly those children who need it the most but who's families just can't afford high quality preschool.  We also created an early development and literacy venture philanthropy fund, Every Child Capital, and it's initial investment provides a book a month for the first five years of a child's life.  By the end of the summer, we hope to have as many as ten thousand low-income children getting books sent to their home every month.
Lisa: What are some little known facts that people may be surprised to learn about you?
Greg: There isn't much that would surprise people, I'm afraid.  I'm a very basic guy.  I do have several tattoos, which I suspect would come as a surprise.  I also love to box – mostly the training – but I've really fallen in love with the sport.
Lisa: What is a piece of advice or words of wisdom that has stuck with you?
Greg: Never giving up or breaking a commitment has been the most helpful advice I've taken.  I strongly believe in the power of perseverance and "grit" (which happens to be one of my tattoos!).  Everyone has talent, and I know I have some.  But effort and a willingness to stick with something you believe in is key to getting things done – especially the big things.
Lisa: What are some of your simple pleasures?
I love when I have time to eat a good breakfast and read the paper.