How A Dinner Changed Her Life
Margaret Kastner and I met at a meeting of the Cincinnati Blogger Network many months ago, and she has become one of my Good Things Going Around followers. We have kept in touch and talk when we see each other. She has always struck me as someone very easy to talk to, a kind and uplifting person. I am so glad I asked her for her story, as it gave me an opportunity to get to know an important part of her…and share it with you.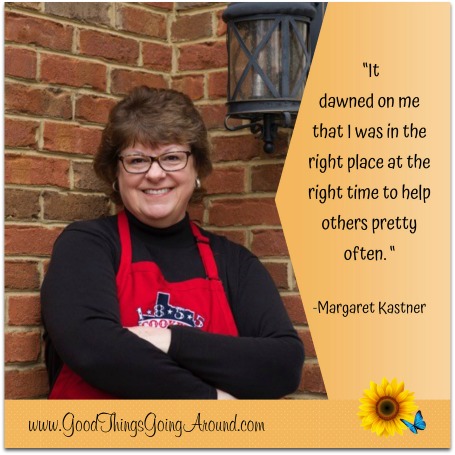 Originally from Detroit, Margaret came to Cincinnati in 1985 with her daughter and fiancé to put down new roots and begin a career with Procter & Gamble (P&G). By 2012 she was ready to do something very different. She retired and began designing and making beautiful sterling silver jewelry. She also started an online business called The Brooch & Bangle which specializes in one of a kind, handmade jewelry that uses a variety of gemstones.
Margaret's life changing experience…in her own words
I remember our table at the Thunderbird Restaurant with its perfectly white linen table cloth and napkins.  This was uptown dining in central Iowa in the 1980s.  It was prime rib Sunday and the church crowd was filling the place after morning services.
My serious boyfriend Dave and I were joining his parents for dinner. I'd met them once briefly, but I suspected this dinner was their way of sizing me up as the prospective daughter-in-law.  I was a ball of nerves.
Parents Tony and Olga were quite a bit older than Dave, and Tony was getting frail from a grueling schedule of kidney dialysis.  Although he drove the car with a lead foot, Tony walked gingerly into the restaurant.  Was he in pain right now?  Should I offer to help him in some way?  I felt all thumbs and tongue-tied.  I honestly didn't know how to act around someone who was so ill.  I just hoped to avoid any awkward moments.
We decided that Dave's parents should be first to get their dinner. When Tony got up from the table, Dave also got up without any hesitation.   He guided his father to the buffet, and patiently held and filled Tony's plate with each of the foods his father requested.  This simple act of kindness was given with such love and respect.
I remember my immediate thought: "I'm not like that.  Why?"  I was accustomed to keeping to myself.   And that had to change.
My formative years were spent in Detroit and its suburbs in the 1960s – 70s. The upside was that the Motor City was the automobile capital of the world, and the birthplace of Motown music.  But in looking back, it felt like everyone was in a bad mood about something:  strikes, crime, declining graduation rates, corrupt city government .. to name a few possibilities.
It seemed to me that while neighbors knew each other they weren't really all that friendly.  People walked while looking down, rarely make eye contact with anyone else.  At the grocery store, people didn't make small talk with others waiting in line.  People kept to themselves.
The impact of that experience
Eventually it dawned on me that I was in the right place at the right time to help others pretty often.  So, I just started paying attention to what was going on around me, began reaching out.
Like when, while on a business trip and sitting in the hotel lobby, an older woman had fallen in the parking lot and her calf had a deep cut.  I asked my colleague to get the rental car, I got some paper towels to clean her up, and we drove her and her husband to an urgent care.  Once I also got my car to drive a fellow P&Ger who was running in the pouring rain without an umbrella to her car in a far off parking lot.
So maybe I've been in training for even more important opportunities to reach out.
A few years ago, Dave's mother moved from central Iowa to Cincinnati.  Although in her 90s, she lives independently, but she cannot drive. I've taken her to a variety of doctors.  We developed a routine of how we walk together, she with her cane in her right hand, and holding onto the crook of my arm with her left.
And this year, I found a way to raise awareness about organ donation in our area.  As a Cincinnati LifeCenter ambassador, I talk with people about the incredible need for people to become organ donars in our tri-state area.  I tell them about the Polycystic Kidney Disease that Dave's father had, and that we now know Dave has inherited.
One of my favorite quotes is, "I've learned that people will forget what you said, people will forget what you did, but people will never forget how you made them feel."  Maya Angelou
I use the last line as a yardstick to measure my day. In the evening, I think about how I may have made people feel that day.  I've been known to drive back to a store to apologize for being less than kind to someone.