Joani Lacy Has A New Book
Joani and Robin Lacy a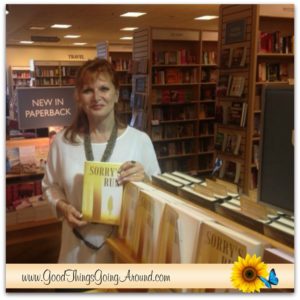 re two people who I love being around. I have known them, and their music, for many years; and only recently learned that Joani shares a passion of mine – writing.  Her newest book, Sorry's Run, is hot off the press and she has a book signing this weekend. What a perfect time to introduce her to you!
Joani has been entertaining Cincinnati audiences for over 20 years with her singing and playing the rubboard in her and her husband's group, Robin Lacy & DeZydeco. The chank-a-chank, as the rubboard is sometimes called in Louisiana, is a metal washboard that is an integral rhythmic part of Zydeco music. She began her career as a vocalist in 1973, performing in Japan while serving in the USAF. Since then, she has toured in Top 40 bands and traveled throughout the Midwest and Southern states until moving to the Cincinnati area where she has covered jazz standards, blues and country music. It was in 1989 that Robin Lacy & DeZydeco was formed, traveling extensively overseas entertaining troops for the U.S. military.
Below is a video of them performing.
Let's learn more about Joani, the writer.
Lisa: When was it that you realized you were a 'writer'?
Joani: I never felt like I was a "writer" even though I enjoyed writing poetry at a very young age. I dabbled in songwriting and more poetry in my 20s, but I was in my early 30s when I felt a shift. I had had an experience while serving in the USAF as a medic that suddenly I felt compelled to put down on paper. And literally, I wrote with pen and paper before I ever had a laptop. So I guess that's when I realized that I could be a writer. That story about my experience with a young boy who died from leukemia on my watch became a full-size manuscript and remains in my drawer. I never wanted to publish it. I just wanted to write it. So that was a turning point.  As far as how it felt…it was fascinating to me, and it made me feel a creative purpose in a new way.
Lisa: Please tell us about your new book. 
Joani: My book is set in a fictional town called "Sorry's Run" in Greenup County, Kentucky. The town was named for its founder, Sorina Duncan Bride, who was an abolitionist,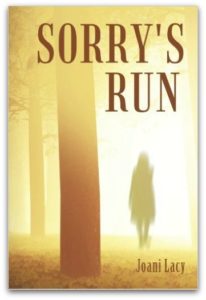 active in the Underground Railroad. Its original spelling was "Sori's Run" but after years of bad luck the name was changed to Sorry's Run. The main character is a stunning ex-model who lives in New York with her roommate (also an ex-model). Shelby Jean Stiller gets a letter from her grandmother in Greenup County, KY asking her to return to her home town to help care for her cantankerous, ailing father. Shelby reluctantly returns to Sorry's Run, only to experience tragedy and life-changing experiences that cause her to shift in her thinking. Just as she is acclimating herself to a new life in Kentucky, and getting close to her grandmother's friends, including a fascinating intuitive who believes herself to be the reincarnation of Sorina Duncan McBride, Shelby vanishes.  The rest of the book is solving the mystery of what happened to Shelby. The investigation is headed up by a retired police chief, and all of Sorry's Run gets involved trying to discover where Shelby has disappeared to. There's a thread through the book following the flight of slaves from a century before that parallels Shelby's terrifying journey, and  flashbacks into the lifetime of Scottish healer, Sorina, and her unparalleled courage in a fierce new world. Scotch-Irish influences spice up the story with pagan folklore.
I was inspired to set this story in Greenup County because it's where my family is from and I love the colorful down home quality of Kentucky and its rich heritage.
Lisa: What is it that you enjoy most about writing?
Joani: The ah-hah moments when I figure out where a plot is going.
 Lisa: When you are not writing, what are you doing?
Joani: I suppose you mean when I'm not working at court reporting to pay the bills.  LOL  But my favorite past time is movies. I am a movie nut. I love films, and of course reading great books. And being on stage with my band is where things really come together for me.
 Lisa:  Please tell us about one of your life lessons.
Joani: I don't think we're here to get anything really done in this lifetime. I think it's more about embracing change and growth. Of course, that's a life lesson that is ongoing for me and never fully grasped. It's a challenge to dare to be happy no matter what comes at us.
Joani's book signing for Sorry's Run
Saturday, June 11, 2016
Joseph-Beth Crestview Hills
www.JoaniLacy.com 
#GoodThingsCincy