Karen Is A Happiness Officer
It is not often you meet someone with a job title of chief guest happiness officer, so, when you do, you absolutely have to pause and learn more.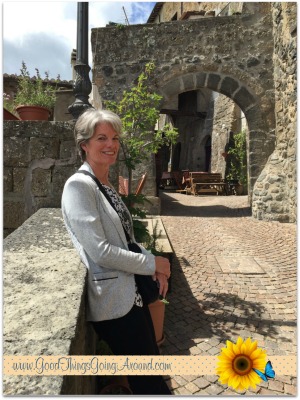 That someone is Karen Smith, who, after retiring from a successful career at Procter and Gamble, purchased with her husband a breathtaking villa called Rocca di Benano in a little village of Italy to bring joy and peace to hundreds each year who rent it for their get-a-way vacations. In addition to owning and managing it, Karen's role is marketing and reservations.
Very ironically, yesterday, after looking through Karen's photos, I met a friend for lunch who began telling me about her recent European trip with some women friends. Sandy stayed in Rocca diBenano and confirmed it is everything and more that is encapsulated in the photos.
Below is text I got from Karen's website describing their Villa
With 5 bedrooms and 4 bathrooms, up to 10 friends or family can vacation together in the comfort of a carefully renovated 1,000 year-old house.
The tiny walled village of Benano is about 20 minutes from Orvieto, making it a perfect home base for day trips to some of the best parts of Tuscany, Umbria, and Lazio. Rocca di Benano sits on a tiny piazza facing a small church. Guests at Rocca di Benano experience Italy as few tourists do. You can meet the neighbors who gather around a table in the piazza on summer evenings, sharing homemade wine and shelling peas. Watch them work the meticulously maintained olive grove on the facing hillside. And join the ladies of the village shopping from the merchant trucks that pull up to the gate of the village. The little village of Benano is in Southern Umbria near the border of Tuscany. Rocca di Benano sits on a tiny piazza inside this walled village.
For Paul and Karen, it started with lots of Italian vacations. Italy has always been their favorite getaway destination. Even during the years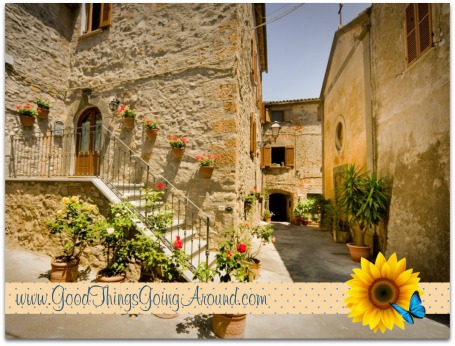 with limited time away from work, they managed at least one Italian vacation a year. Over time, their appetite for la bella vita grew and they made many good friends in Italy. So when they had the opportunity to buy Rocca di Benano, it was an easy decision.
In Karen's words:
"Never could I have imagined I'd be doing this in my retirement but it is an amazing opportunity to be part of another culture. This also makes me aware of how I want Americans to be thought of and represented.
It is so much fun to talk with people who are in a good mood either because they are planning or coming back from our Villa. Some of our guests have wanted a high resolution photo of it so that they can have a painting created. It is their happy place.