Kathy Wade Inspires Through Art
On a corner of Over-the-Rhine, down a long hallway and behind glass doors, there is a place where imaginative ideas take shape. Hanging from the two-story lofted office space are whimsical characters and brightly colored banners. Two of the corners of the main meeting space include a piano and a banquet sized table with dozens of children's books displayed on top.
This is the home of Learning Through Art, Inc., a Cincinnati nonprofit organization that has benefited over 1 million people with its innovative cultural arts programs aimed to increase opportunities for collaboration, arts education, artistic grown, community engagement and economic development.
A few of its programs are:
Books Alive! For Kids, a four-time EMMY nominated, national award-winning, performing arts literacy program, that makes books come alive through sight, sound, and touch with phenomenal success. Targeting Pre-K through third grade, readers experience interactive, hands-on activities aligned to the new national Common Core Standards.
Mosaic Entertainment programs that bring arts education programs to students and faculty through lectures and performances.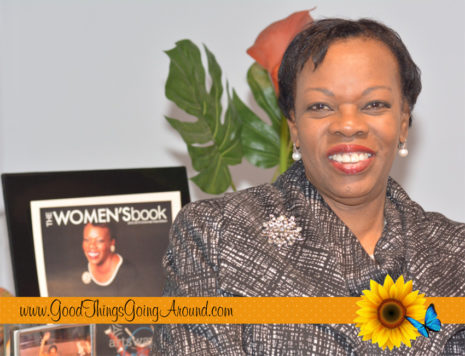 Kathy is a twice EMMY nominated producer and award-winning international jazz entertainer who was twice voted Best Singer by Cincinnati Magazine. She and her nonprofit received the Cincinnati USA Convention and Visitor's Bureau Joseph P. Dabney Award for Diversity; and, in February, 2014, Kathy was voted resolution from the City of Cincinnati Council for more than 20 years of dedication to engaging, empowering and educating our global communities.
Lisa: You have such an incredible passion for lighting that spark in young minds. Was there anyone or an experience in your childhood that inspired you?
Kathy: At home my parents surrounded us in Jazz.  I picked up on the music and began to imitate the instruments and voices I heard.  In school, Ms. Flowers, my second grade teacher, sparked so much for me with her enthusiasm to teach and our making her proud to learn.  Reading was always important in our house, so books were my friends and stories my vehicle to travel anywhere.  My grandmother was a published children's author who was very influential.  Proper English, reading and education were the norm growing up.
Lisa: When was it that you knew you had such a love for the arts and creative expression?
Kathy: I have always had an interest in performing. From pretending to do commercials in our basement in front of our new washing machine to taking the required dance and flute (selected instrument) lessons.  I always saw a creative solution to problem solving, but the summer arts enrichment activities my mother enrolled me in were by far the moments where my creativity was truly inspired.
Lisa: How did you get started pursuing ways to teach and engage through the arts?
Kathy: While working and waiting for my star to ascend as a Jazz entertainer, I decided a good sign of success is performing at your alma mater or any school.  I had an idea for what is now A Black Anthology of Music, a lecture performance now known as Edutainment, about the history of Jazz and learning the importance of 'finishing what you start'.  What started out as a Black History Month assembly at old Washington Park Elementary became the foundation of Learning Through Art, Inc., 'to augment the dwindling arts in schools.'  Once I discovered performing arts used as a method of teaching could turn on the light for learning, my late husband, Dan Jenkins, and I co-founded the non-profit 501c3 organization dedicated to building community through art inviting kids of all ages to …"don't just learn… experience."
Lisa: You are doing so many innovative programs and activities through Learning through Art, Books Alive! being one of them. What are the plans for expansion of this program? 
Kathy: As we plan for our 25th anniversary, we are working to expand distribution of Books Alive! For Kids® in schools, communities and homes with our book boxes and backpacks.  We are particularly excited to expand The Big Read: Books Alive! For Kids® Family Literacy Nights empowering parents and caregivers to engage their children to read.  The nights promote family/parent engagement while taking the mystery out of how to engage your child to read making them lifelong learners.  Each child takes their backpack home with them which includes the book at the end of the literacy night.  We look forward to sharing The Big Read: Books Alive! For Kids® Family Literacy Nights across the country.
Our next program Books Alive! For Kids® Emerging Authors will provide us a platform to introduce new authors, their book, which LTA will publish and create Books Alive! For Kids® collateral program materials.  This will give Learning Through Art the seamless production of all the materials from book to box or backpack contents.
Lisa: What is the greatest satisfaction you receive from the work that you do?  
Kathy: Seeing the light of learning turn on in a child's eye; watch the interaction of parents and caregivers when working with their children during family literacy nights; providing access to institutions whose admission cost may be prohibitive for many families and individuals; seeing neighbors meeting neighbors while learning about other cultures through music, crafts, dance and animals from around the world; knowing you can make a difference.
Lisa: What is a personal challenge you have overcome in life? What are lessons learned?  
Kathy: Moving forward after the sudden death of my late husband who was such an integral part of the founding and shaping of Learning Through Art and my life.  Taking one step at a time; building collaboration and support; Breathe!
Lisa: What is some advice you would give to others about pursuing their passion in life?
Kathy: When you pursue your passion you will become your best you.
Lisa: What is something about Kathy Wade that people may not know?
I have had the pleasure of performing the National Anthem for then candidate and now President Barack Obama three times.  Amazing to be part of the country's history.