Killed Marine's Dogs Make It Home
I have heard the stories of volunteers who give of their time, their vehicles (and airplanes), and travel expenses to transport dogs who, for all kinds of reasons, have been displaced.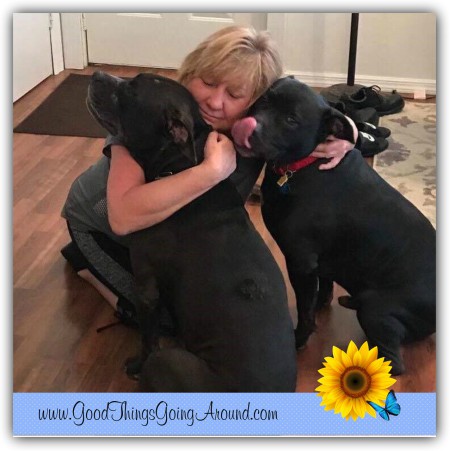 One recent story especially touched me. This photo taken of homecoming of the marine's dogs titled, 'The Boys Are Home', says it all.
Michele Witte, a retired police officer, has driven more than 100,000 miles over the course of nearly eight years as a volunteer in rescue transport – often accompanied by her husband, Jeff (retired as the police chief of Woodlawn) – but this trek had even greater purpose.
A young marine, walking down a California street in uniform, was killed by a hit and run driver. In that instant, his dogs who were awaiting his return in their Tulsa apartment, suddenly lost their best friend. And a very proud mother living in New Jersey, lost her son. Those two dogs are all she had left of him.
And thus was the reason for the Facebook post requesting drivers. Michele and Jeff took the dogs from Indianapolis to Columbus, one of 18 legs in Axel and Echo's journey to their grandmother.
I asked Michele why this particular drive touched her.
"Since I am from the police background, the fact that he was a marine just going about his business and was mowed down and left there. It was so malicious. Because of someone's stupidity, he is dead and his dogs are left to fend for themselves. I can't imagine how I'd go on if my step kids were killed. His mother wanted those pieces of her son. It really got to me," she told me, "When picked them up, Axel was a love bug and kissed all over Jeff when Jeff sat in the back with them. Jeff is really good with soothing anxious dogs. I'd hear Jeff say something and then be smothered in dog kisses. Echo was mellow the whole way and slept the whole way."
I also asked her to explain her passion for this cause.
"I love dogs. I have always had at least one," she said.  "I went through a bad depression when I retired and the dog I had at the time saved me from myself. I knew if I did something stupid, that my dog would not understand. There is something about the unconditional love of dogs that touches me. This is about paying back what my dog did for me.
I used to think thought being a cop was my calling and I was wrong. This is my calling. I can't help but love what they do for me. It is a natural high."