Love Was Nikki's Destiny
Imagine having a job where you are organizing opportunities for people of all ages and backgrounds to come together to play, learn and grow. That is exactly what Nikki Earhart is charged with in her job with the City of Blue Ash where she is responsible for youth and family programming, and for managing the Farmer's Market.
"I am providing fun for people," she told me was her greatest reard.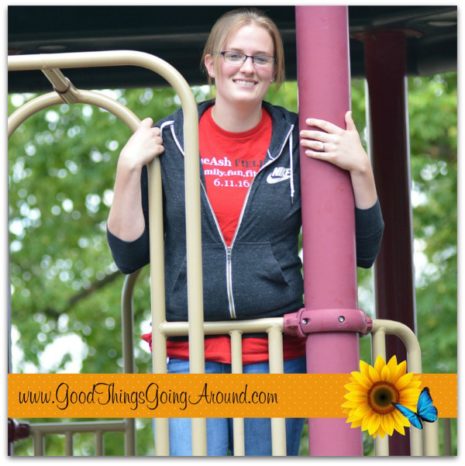 For the past several years I have been partnering with the City of Blue Ash through my dog training business, offering the community educational programs on dog behavior. Nikki became my main point of contact this year. Always so organized and positive, she has been a joy to work with. I thought I'd take a few minutes to learn something new about her.
Below are her own words.
Nikki's love story
Jon (her husband) and I had known each other nine or ten years by the time we started actually dating. Growing up, I was good friends with him and three other guys.  We all went our own ways after high school. I went to Bowling Green University. Jon stayed in Cincinnati to work and then began training in the army. He started writing me letters, almost every day. There were days when his mail was not picked up, which meant I sometimes I got six or seven letters at a time. It was through his writing that I saw in him for the first time something really special, something beyond just friends, and I began to realize I need him in my life. Jon has told me he knew from the first time he saw me that he was going to marry me one day.
We got married really young. I was 22, recently out of college, and Jon was 21. We moved across the country shortly after. Jon was deployed to Iraq for the first time just four or five months after our wedding. He ended up being deployed twice. Those were difficult days and challenges to overcome.
Nikki's return to Cincinnati
With Jon being in the army, we had lived from coast to coast, moving about every year since we were married. We stopped that when our son, Eli, was born and we knew we wanted to settle down. Cincinnati is where we grew up and we wanted to return. We were living in Indiana just prior to moving back here last fall. Eli was ten months old.
Speaking about family
I grew up in Evendale, and we used to travel once a month to Indiana to spend time with my dad's family. Being close was so much a part of us. Now we use FaceTime to talk with my parents at least two times a week. It is very important to me that we raise our son to know and appreciate the value of family too.
Nikki's legacy
When I think about life, I always think about Eli and how my actions and his environment will impact him. I try to be the light in his world and show him there is good.