Mariemont Graduate Co-Writes Book
Teachers can have a huge impact on young impressionable minds. Within their classrooms are often born dreams and ideas that linger, and encourage lifelong pursuits. Ben Cober, a 2003 graduate of Cincinnati's Mariemont High School, know this. It was there, nestled in a quaint, tree-line village where his love for creative expression first took flight. Little did he know when he donned his cap and gown that years later that love would lead to his co-writing science fiction fantasy adventure…but it  did!
His path since high school took him first to Butler University where he studied theatre before transferring to University of Illinois, then back to his home town to work in development and public relations for the Cincinnati Museum Center. He later attended Indiana University in 2010, and after earning a duel MBA in marketing and management, ultimately joined a tourism architecture firm, PGAV Destinations and today lives in Washington.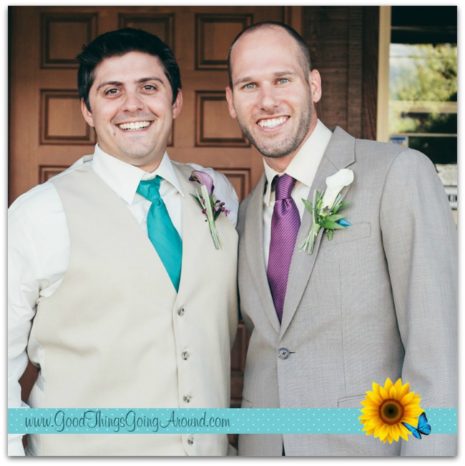 It was a fateful fall day, 2005, when Ben first met Greg Zimmerman on the campus of University of Illinois. Their shared excitement for sailing (and the exact same birthday) somehow blended their lives, and, after a few years of deep friendship, they came to share something else…Encounter IX.
Their journey to science began in Greg's the chasm between college graduation and a first 'real' job. He and his girlfriend (now wife), Katie, were living with her mother in Bellingham WA. Katie was working full-time and Ben was looking for a way to take up his time.
"Thus began a process that I could never have imagined at the time. Within a few days, I had drafted a very rough, yet well though-out synopsis for a sci-fi / fantasy adventure. It contained approximately forty or so chapters, the general plot, characters, places, and framework for a world which would become the main setting for Encounter IX," Greg wrote on their blog.
Fast-forward a few years. He was rummaging through his Chicago apartment when he stumbled upon that journal and synopsis preserved in a metal briefcase and decided to share it with his good friend.
"Without hesitation he was interested in writing a few chapters. Then a few chapters became sections, and sections became a novel. Ben has always been a great storyteller, and I knew that we would be able to work well together stitching together a tale," Greg detailed.
Fast forward again to 2016.
Encounter IX, a rich blend of space opera, nautical adventure and Odyssey-inspired episodic, is published. You can purchase it on Amazon.
About the book:
In the year 2221 C.E., facing unstoppable overpopulation and resource extinction, the most passionate and brilliant minds on Earth banded together to send ten ships – 60 souls – into the distant, swirling arms of the Milky Way Galaxy to begin life anew. Ten hopeful planets – all Fertile Crescents with atmospheres, water, shifting tectonics, and safe distances from their nearest stars – served as the blind prayers for the future of the human race.
Ten ships left our solar system. To date, we only know the fate of one – Encounter IX.
Encounter IX follows the fated crew-members of one interplanetary star ship as they fight to establish the first off-world colony. Their journey explores the depths of the human soul, self-preservation, and to what extent we can, and should, go to protect and save the ones we love. Through navigating the daunting waters of geopolitical affairs, civil war, dangerously devout religion, and a planet on the verge of tearing itself apart, six space pioneers grapple, grow, succeed, and succumb through myriad adventures to discover what it truly means to be human, and what we must become to survive.
I asked Ben a few questions.
Lisa: Where did your inspiration come from in writing the novel?
Ben: As Greg (my book partner – you can read more about our partnership in this post) has told me, in his initial outline, he was largely inspired by The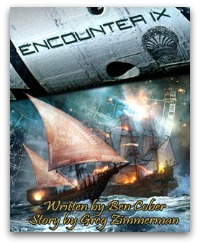 Odyssey as well as a life of sailing. These two elements factored immensely into his original narrative.
I drew from a myriad of resources as I wrote the novel over the course of seven years. They say write what you know, so I drew largely from various travels I've been lucky enough to have: the Amazon jungle, old towns of Italy, German and British castles, Israel, the Caribbean, and a lifetime of sailing up and down the east coast. Music was influential as well while writing; and as a child of the '80s, I grew up on lots of wonderful films that influenced some of my storytelling as well, including the Aliens series, Master & Commander, Jurassic Park, and the Lord of the Rings series.
Lisa: Who was someone, a role model or teacher, who inspired you in your writing and how?
Ben: I would have to say my high school AP English and Creative Writing teacher, as well as theater director, Mrs. Cathy Ransenberg. Cathy was first and foremost full of energy and life, and made the world of literature appealing and fun. When writing our own pieces though, she deeply encouraged the wildest creativity, but was tremendously stringent in writing well – punctuation, grammar, and story and sentence structure. Outside of my own family, Cathy was one of my greatest proponents in creativity, and I owe her a great deal for that.