Meet A Cincinnati Cover Girl!
Super cool for 5 year old Varen Noell Rogers!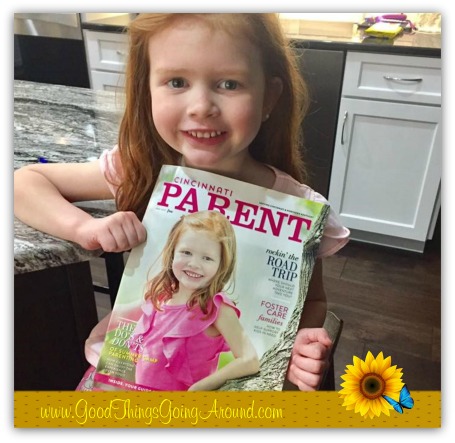 Months back I remember her mother, Stacy Sill, telling us her daughter was in the running for the cover model of Cincinnati Family Magazine…and now Varen's beautiful face is gracing thousands of issues around the region.
I asked Stacy to share some insight on Cincinnati's newest superstar. This is what Stacy said:
When I asked Varen what she thought about being on the cover of Cincinnati Parent Magazine, she said it was very exciting and it was awesome that her friends and teachers got to see it. She's a little performer and really enjoyed the photo shoot!
It's fitting that she was born on the first day of summer, because her personality is like a ray of sunshine that can light up a room! She's a typical five year-old in many ways… spunky, opinionated, giggly, and a complete ball of energy. She loves to have play dates, go to the park, watch movies, and play games. She absolutely loves books and is an enthusiastic emerging reader. When I asked her to describe herself, she said "well, I love to sing and dance and do theater, make new friends, and I really like to make people laugh. Oh, and I love unicorns and rainbows too." That summed it up pretty nicely!
Varen is currently involved in gymnastics, art classes, and ice hockey. She put on her first pair of skates at 18 months old! She also loves taking glass art classes at Brazee Street Studios in Oakley. We've really tried to get her into a little bit of everything and then follow her lead in terms of her interests.
From a very early age, Varen has had a penchant for the performing arts. At age 3, she was the only preschooler in her elementary school to audition for the talent show. She decided, all on her own, to sing My Favorite Things from The Sound of Music (then her favorite movie)… a capella! She pulled it off in typical Varen fashion, full of fun and charm! This past weekend, she played a Munchkin in the New Richmond High School production of The Wizard of Oz. She was so enthusiastic and confident that the director gave her a line to perform, and she was thrilled! She nailed it. 🙂
She asked me to include things she does not like: stinky socks, macaroni and cheese, and vegetables. Now you know.
This week, she says she wants to be a teacher when she grows up because it looks really fun and she knows some good teachers.