Michele Carey Makes Impact
Today I want to introduce a woman who I have known for many years. Michele Carey is like a breath of fresh air when she enters a room with her brilliant smile that touches my heart in a deep place. Her career choices have found her in positions that have the power to impact lives and communities in positive ways. I know that in the opportunities I have had to work with her – or be in the same room with her – that she has had a magical way of uplifting and inspiring me. We had lunch the other day. As she spoke of her job at the Greater Cincinnati Foundation and her new side venture, selling jewelry for good causes, passion swept over her face. This is a woman who finds so much self satisfaction in her impact. I am glad to have Michele in my part of the world.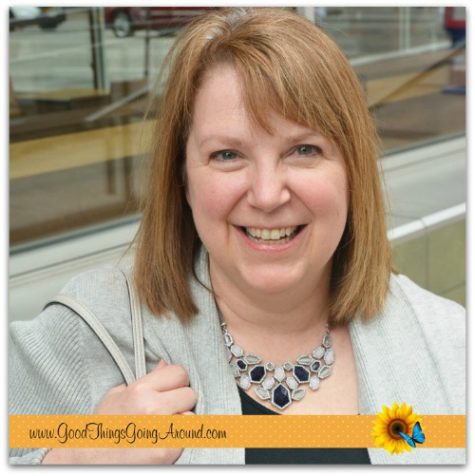 Please learn more about her below.
Lisa: Please tell us more about you.
Michele: I'm not from Cincinnati, but it's my home after 20 years living here, raising a family, and getting to know so many wonderful people in our community. I came to The University of Cincinnati for graduate school, briefly moved to Chicago for my husband's work, and returned when we were expecting our first child.
I live in Mt. Lookout with my husband and two children and I work at The Greater Cincinnati Foundation (GCF). I help professional advisors introduce their charitably minded clients to GCF. I have the best job. Every day, I work with big hearted people who have even bigger dreams for our community.
After 11 years, I just ended my service as a Trustee for The Cincinnati Association for the Blind. Last year, I joined the board of Cincinnati Public Radio —a dream volunteer job since I'm a total public radio geek!  I serve as President of the Estate Planning Council of Northern Kentucky and an Advisory board member to YMCA Camp Ernst.
Lisa: There is a quote that I love that talks about how the world needs more people to follow their passions. You have such a sparkle in your eye when you talk about what you do professionally. Talk to us about that and why that puts a sparkle in your eye.
Michele: Thanks, Lisa! I heard that if you love your work, you never work a day in your life.  That's the secret to my sparkle!  Working at The Greater Cincinnati Foundation, I love hearing our donors' stories, discovering what matters to them, and learning how they'd like to change the world. My joy is connecting them with the people, organizations, and ideas that help them accomplish their charitable vision.
It's perfect for me. I've always been a natural connector, even in my personal life; once I know that someone is interested in something, my mind clicks into "matchmaking mode." I'll think of a person with a similar interest, a topic I  heard on WVXU, perhaps a book I read, or an organization that is doing work that aligns with their interest. For better or worse, it's a compulsion, much to the embarrassment of my teenage children when we are running weekend errands and I start talking with people!
Lisa: You also sell jewelry with sales benefiting local causes. Tell us more about it and why that is important to you.
Michele: This February, my daughter and wanted to raise money for Camp Ernst's scholarship program. Our goal was to raise enough money to send a child to camp for a week.
We love jewelry, and began making it to sell.  VERY quickly we realized that while fun, its not our strength, and certainly was not going to get a child to camp any time soon! I discovered a a company in New York that designs a line of high quality, affordable jewelry that is absolutely gorgeous—much like what I wished I could make! We started doing in person "Pop-Ups" selling this jewelry. By early Spring, we raised enough money to send a child a to Camp Ernst for a week! We've also supported Children, Inc., All Things Kubuki, Cincinnati Children's Hospital, and The Women's Fund of The Greater Cincinnati Foundation among others. We are currently raising funds for The League of Women Voters.
Our motto is "Be Sparkly and Do Good". We've given away more than $2,000 from our Pop-Ups and online boutique sales since February.
It's not just about nonprofits—helping individuals accomplish their dreams is important, too!  For example, we are supporting the Leurck Family's dream to make a documentary, "Drew Gets It", about their son who has a special gift for touching people's lives. Their dream is to premier this documentary at the Real Abilities Film Festival and they are raising money through Go Fund Me.
In addition, we've had the joy of helping two fabulous young women on the road to Miss America. We've sponsored and provided jewelry for Miss Northern Kentucky, Abbie Gibson, and also jeweled the newly crowned Miss Ohio, Alice Magato. We can't wait to see Alice compete for Miss America on September 11th (wearing jewelry from our boutique!) and hopefully see Abbie there, too!
We're having a great time and its truly good karma all around. Non-profits raise money, people have fun, and I love the that my daughter is learning entrepreneurial skills. My friends and co-workers have been incredibly supportive, which is a gift, too. For me, I get to wear my display samples at work and play. Anyone who knows me will agree that wearing the jewelry is my reward!
Note: you can learn more about Michele's jewelry sales here. If you'd like to host an pop up event (online or in person) to benefit a non-profit, you can contact Michele at michelecarey@me.com
Lisa: Tell us about someone who has been a role model to you.
Michele: I've had the pleasure of knowing Susan Friedlander for many years now, and I consider her a friend and role model. What she has done for our community takes my breath away. Sue is fearless when it comes to garnering support for a community need.  A true leader, she is always the first to give (and generously!). Her compassion runs deep and she is intellectually engaged. Watching her, I see someone who gives with her heart and equally her mind, which I admire. I've said to her, "Sue, when I grow up I want to be just like you!."  We laugh because I'm pretty grown already up at my age!  But, it's true—I can only aspire to be like her!  Also true is that she will will be terribly embarrassed that said these things about her!
Lisa: What are three things that are on your bucket list?
Michele:
living to see my children grow up to be healthy, happy, and financially secure adults.
renewing my marriage vows in Hawaii with my husband of 23 years, Matt Carey.
looking back on my life, and knowing that I was a small part of something exceptionally great for our community.
Lisa: Is there something coming up that you are looking forward to?
Michele:  I'm looking forward to helping Cincinnati Public Radio (CPR) do a July fundraiser in partnership with Everything But The House (EBTH).  At the end of July we will be collecting items from people in the community (value of $200+) to be auctioned online by EBTH in August. Stay tuned to 91.7 (WVXU) or 90.9 (WGUC) to learn more about how to donate and bid! I am co-chairing this first time fundraiser with Morgan Rigaud and Amanda Matusak, and we hope it will become an annual event!
Also, Sue Friedlander and I are co-chairing a "No-Go" Gala to benefit The Cincinnati Association for the Blind and Visually Impaired. (CABVI).  As ladies who appreciate fuzzy slippers, we're excited that it's a virtual event that takes place online. John Morris Russell has agreed to "Not" be our Emcee for the event. We hope that people will be excited to support CABVI without having to get dressed up for a gala.  It's a beautiful concept that my clever friend, Kathy Gottshlich, suggested for CABVI. You don't have to go anywhere, and no rubber chickens will be harmed in the serving of the "non" dinner. Priceless!
#GoodThingsCincy