Nick Champions Lives
Today I wanted to introduce you to someone who has championed the lives of more than 265,000 high school and college students. Nick Jackson commands the stage. When he gets in front of audiences he lifts them to a higher place, gets them excited and inspired. It truly is a gift and he has dedicated his adult life to sharing that gift with as many people as he can.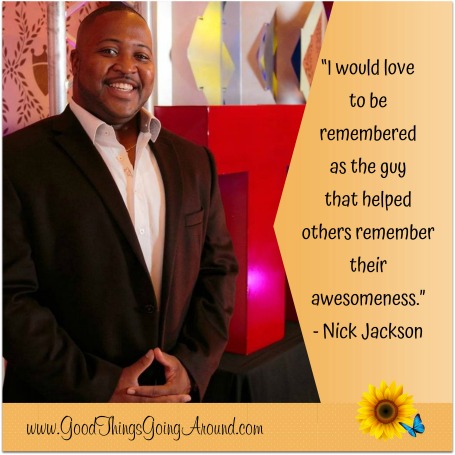 Nick is the first African-American male teacher and coach at Norwood High School in Cincinnati, later going to Ft Thomas Independent School District in Northern Kentucky. If you know him, it would come as no surprise to learn he coached two football teams to state championships, ever once having a losing season. Shortly after, he was selected by NBC, Showtime and Fox Sports' Cris Collinsworth to become the national spokesperson for a nonprofit called UGive.org. Today, through Nick's organization – NickJacksonSpeaks.com – he gives transformational speeches to packed events.
Let's learn more about him.
Lisa: You have devoted your adult life and career to inspiring and empowering people. Where does your inspiration draw from?
Nick: My inspiration comes from inside me. Deep, deep inside me there is a young child that was told that the world doesn't change nor care about you. The best you'll be able to do is to "fit in it!"
Lisa: Was there a young experience that influenced your life?
Nick: Absolutely, my grandparents are phenomenal. Every time we spoke (they've passed) there was another reason to walk away from the conversation uplifted. They had this ability in my life to convey a message of love and empowerment at the same time. I'd walk into their conversations feeling beat down by struggling with an ability difference and the frustration of the day. They would always remind me of the big picture. And in doing this they would remind me that I'm a big part of this bigger picture.
So – keep fighting the good fight.
Lisa: What has driven you to this mission?
Nick: My biggest driving force is the amount  of people out there that don't have positive role models, parents or grandparents that point them in this positive direction.
Lisa: Who is someone that is a role model to you and why. 
Nick: My grandfather. I mean he was just awesome! He had a way to connect that was as much spiritual as it was physical. He had a way of making you believe that you are special, and the outcome of your awesomeness opens doors for others to also be awesome!
Lisa: When others think about or remember you, how would you like to be remembered?
Nick: I would love to be remembered as the guy that helped others remember their awesomeness. I'd love to be remembered as the coach that was coaching people in life and the man that gave to them without expectation of return.
Lisa: What is something about you that people may be surprised to learn?
Nick: I have a serious fear of squirrels they freak me out!
Lisa: Do you have any stories of how one of your talks made an impact on your audience and yourself?
Nick: Wow where to start –
The two that come to mind are ones that are very close to my heart. I remember when I first started speaking I was at an elementary school called Crosby Elementary. I spoke to the students about never giving up no matter what other people say your disability is and also knowing that your ability will never be given to you by man. A young man stood up in the back of the room. He was leaning against the wall and he said he was a person with a disability. He explained after hearing our speech how he wouldn't let other people's thoughts of his ability hold him down – it was beautiful.
The next story is very similar. We were able to speak at a convention in Texas before thousands of students were with multiple races represented. As I stood there, I noticed that the Latino students, the African-American students and the Caucasian students all sat in separate sections of the auditorium. During the speech we talked about being one, having one voice, and being forgiven together in unison. The crowd of many colors, faiths and backgrounds came together as one in the hallway and we as one took the best selfies ever!