Rachael Moore Sees Art As Discovery
Rachael Moore will tell you, she is not an artist but she is a huge fan of the arts. She used to be what she calls 'that typical visitor' who would pop into museums during her trips to admire art, but really, not giving it much more thought than whether or not she liked a piece of work.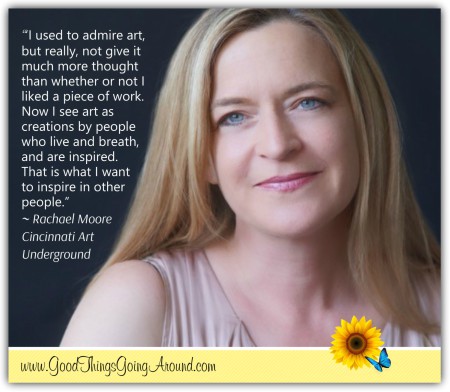 Now, she told me, "I see art as creations by people who lived and breathed, and were inspired. Art just comes alive and is constantly evolving. I can see the story behind it. It is a journey of experimentation for artists who have studied with their minds or hands or philosophical movement."
Before her metamorphosis, Rachael was on track for a corporate career. She was three years into law school when she moved with her husband to London for several years, and then moved to Cincinnati in 2011 when her husband took a job with GE Aviation. Rachael got involved with the arts a year later with a volunteer position for the Constella Music Festival.
Her transition had begun. Rachael remembers a conversation with a group of local artists. "They needed a chance to show their work, but also I saw such a passion here for people who want to see what Cincinnati artists are doing."
That is when her vision began to crystallize.
In 2014 Rachael organized several pop-up shows in Over-the-Rhine; and today, she runs an 800 square foot boutique contemporary gallery called Cincinnati Art Underground.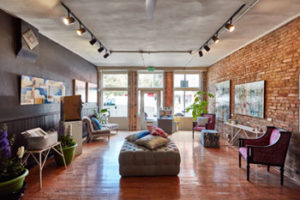 Each month it features the work of diverse artists known locally and nationally, with artist talks and events.  Coming up in October, her gallery will feature David Gerena aka KAOS, a graffiti artist who got his start in New York City in the 1980s, when graffiti was considered an 'underground culture'.
"I like surprising our visitors. I want Cincinnati Art Underground to be a gallery where there is always something more to discover," Rachael said.