Remember Karyl As A True Friend
It had been years since Karyl Cunningham and I had last seen each other. In fact, admittedly we had a hard time remembering where we met, but that didn't seem to matter. Within in minutes I felt as I was sitting across the table from a very close friend.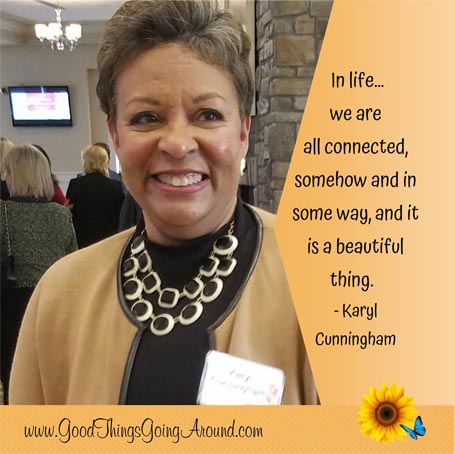 That is Karyl's way. When you speak, she listens with careful focus. She naturally inspires others to want to do more, be more, achieve more. Her smile leaves you with a strong reminder that she is someone who cares.
Ironically I learned she has the role now of another woman who also held a special place in my heart, Toni Miles. Karyl is executive director of the YMCA of Greater Cincinnati's Black and Latino Achiever's Program which provides teens with essential tools for pursuing higher education and identifying career opportunities. One hundred percent of the Program's high school seniors graduate high school, with over ninety percent entering post secondary education and over eighty percent, completing college, earning Associate's or Bachelor's degrees. I remember well seeing the importance of this work during the five years I did public relations work for the Y.
It is no wonder Karyl is the recipient of numerous community activity awards, including the 2016 Venue Magazine Women of Influence Award, 2006 Star Award, Over-the-Rhine Chamber of Commerce, for individual community contribution; Urban All-American Achievement Award, Toledo, Ohio; and Ohio State Assembly Community Service Recognition.
She has served on several nonprofit boards, including the Leadership Council, Seton High School, and Healthy Moms and Babes.  And she serves on the boards of the Over-the-Rhine Chamber of Commerce, the OTR Foundation and the 3CDC New Market Funds Advisory board and member of the Citizen Advisory Panel for Agenda 360.
Let's learn more about Karyl.
Lisa:  Please tell us about a life experience that may have been difficult or challenging, but ended up being a positive growth lesson.
Karyl: I would say that the most difficult challenge for me, was as young women beginning my first non-profit position in my hometown of Toledo, Ohio.  After working there about a year, I was approached by my employer who had an interested in transferring me to Covington, Kentucky to open up a satellite office that would serve individuals who were underemployed or unemployed and interested in starting a career in retail sales.  To say the least, I was nervous and skeptical in moving from my hometown, which at the time felt so final.  In hindsight, it was one of the best decisions that I made.  As a result of this move, I fell in love with Cincinnati and decided to take a leap of faith and look for other opportunities that would align to my skills, knowledge and abilities in the field of education or non-profit work.  I overcame my fear of leaving my safe place and jumping right in!  And I am still here, after 30 plus years.
Lisa: What are some of your greatest passions and how do they impact your career and life choices?
Karyl: Definitely I'd say connecting with people, reading history/novels and cooking.  In life…we are all connected, somehow and in some way, and it is a beautiful thing.  People can impact your life in so many good ways, ways that give us hope, gives us advise and teaches us to advance to our greater good!  History teaches us so much about who we are, why we are –  and supplies us with a foundation and framework for making decisions in both our personal and professional lives.  Cooking allows us to blend people and conversation over great bounty!
Lisa: What is the greatest legacy or impact that you hope to be remembered by when others think about you?
Karyl: I want people to remember me as someone who was always honest, trustworthy and a true friend!  Someone who made a difference!
Lisa: What is one of your favorite pieces of advice and why?
Karyl: Never allow anyone's negative opinion of you, become your reality!  That advice says it all!