Their Passion Is Helping Kids In Peru
Now I know where my intern, Walnut Hills High School student Isabella Noe gets her generosity and her drive. Her father, Bill Noe, is sharing his story below of a cause that is dear to his heart.
In Bill's words…
"The Paul Lammermeier Foundation helps children-in-need reach their full potential by providing houses in Peru, centered on family and the Jesuit values of education and service to others.
This is their mission statement. The Foundation supports two boys' homes and one girls' home in Lima Peru. There are currently 17 boys and 4 girls in the houses. The children are either orphans or children who have difficult family situations that would make it otherwise difficult or impossible for them to get a good education.
I have known Paul Lammermeier since my freshman year in high school (1979). He was a teacher of mine and he ran the community service program at St. Xavier High School. He began taking mission trips down to Peru, and after several years, felt God was calling him to move there. He sold almost all of his possessions and moved to  Peru in 1988 to teach at an inner-city  Jesuit high school. He was drawn to the larger needs of the community and the children living on the streets.  In 1993, he informally adopted two homeless boys, providing them with shelter, food, education, and moral guidance. He decided to formalize his work by establishing a home for boys. The foundation came into being in 1995 in support of Paul Lammermeier's work with homeless children in Peru.
Paul inspires me in many ways. He lives the motto of "being a man for ot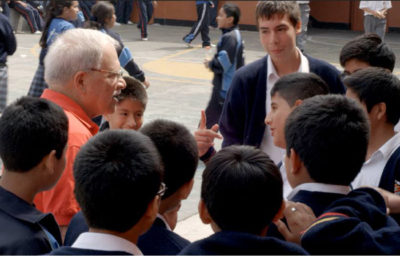 hers" through his life's work of improving the lives of the children in Lima. His work permanently changes the lives of these children for the better, and like a ripple in the water, this in turn changes the lives of many others. Many of his former house residents are successful professionals and are involved in the foundation in Lima. In fact, one former resident, Juver, has started a house in the jungle country in Peru emulating Paul's work.
The Paul Lammermeier Foundation's motto is "be a small part of little miracles". I joined the board over 10 years ago as treasurer and have made several trips down to Peru to visit Paul and the children in the houses. I am always moved by the sense of family in these homes and the way the children call Paul "Pablo" and view him as a father. The PLF board realizes that by helping support Paul's work we can be one of those small parts of little miracles. Paul has changed my life by showing me how acts of kindness and care for others can make positive, lasting changes.