These Adults Explore And Give
You may find them dancing, sightseeing, hiking, tending to vegetables in a garden, or volunteering their time. One day they may be exploring Fort Ancient, the next they may be touring one of the local waterways on a pontoon boat. One day they may be sorting items at Matthew 25: Ministries, and another day you may find them giving of their time to a different organization. They may be checking out the butterflies at Krohn Convservatory, exploring one of Cincinnati's parks, or learning about history or art in one of our area museums. Or they may be in the kitchen practicing their cooking skills.
One thing is for certain, the adults who participate in LADD (Living Arrangements for the Developmentally Disabled)'s Community Connections Program are living fuller lives. They are surrounded by friends and a supportive network. They are learning more about this great region that all of us share.
LADD's Community Connections is the only non-facilities based program of its kind in Cincinnati. In groups of 3 to 5 adults with developmental disabilities, participants choose places in our area to explore with one of LADD's social guides. The Program reduces isolation and also provides an opportunity for participants to learn and strengthen life and communication skills, build confidence through decision making, and explore their own likes and dislikes.
Melissa Caywood once told me that, "Without it, I would be doing nothing. Community Connections keeps me busy and I like to be busy."
Faith Maynard is program manager for LADD. "Part of this process of advocacy is taking stock of who they are – and what they want to accomplish by exploring what they like and don't like in the world," she explained.
I love that whole idea. In my work with the organization, getting an opportunity to tag along with one of the groups makes my whole week. These adults have become my friends. When they smile, I smile. When they they tell me about how their making a difference makes them feel good, it makes me feel good too.  When I see the interaction between staff and participants, I am reminded of what working with heart is all about. When I see them out in the community, doing what all of us have a right to be doing, I think this is just as it should be.
Community Connections is about so much more than just an activity to occupy a day. It is about relationships being built and strengthened. It is about people who deserve to be included and valued, being included and valued.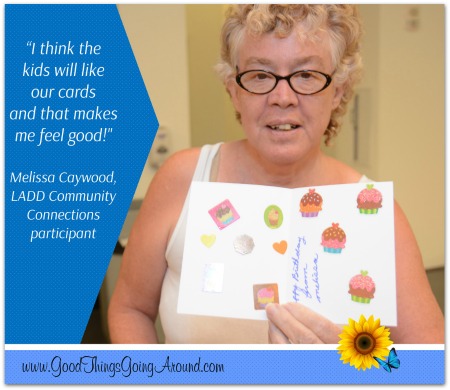 One of the groups recently gathered at the Contemporary Arts Center to create handmade birthday cards for children at St. Joseph Orphanage. A few visitors of the CAC stopped by to help. Each card was personalized with stickers, drawings and messages.
"Our kids that stay with us love to receive cards to display in their rooms. Oftentimes they are in the custody of children services and the cards received from caring card pals will be the only cards they get. Knowing someone in the community cares enough to make a card helps them feel valued and special. Thank you LADD!," Lisa Caminiti, community relations/volunteer coordinator for St. Joseph Orphanage told me.
And how did Community Connections participants feel about their gifts?
"I think it is going to make the kids feel good and it makes me feel good to do that," Trip Huggins told me.
"It makes me happy to make the cards because I know I am helping someone," Erin McDermott said.