Two Cincinnati Heroes Celebrated
Last week, I got to meet someone who in my book is a true hero. You may have heard about a horrific explosion this past June in an Oakley apartment building that killed a mother and her son. The reason the rest of the residents lived to talk about it is because of a brave young couple, who, after making it to safety, risked their lives to go back into that inferno to makes sure everyone else made it out alive too. Mastafa ran through the 12-unit building banging on doors, yelling, 'FIRE!'.  His wife helped a 79 year old woman out of her basement patio by pulling her over the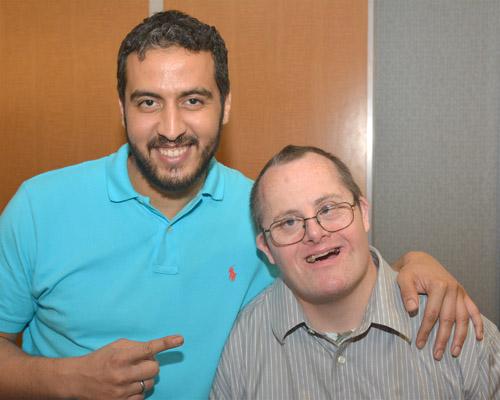 metal railing. He carried down an older woman in a second floor apartment, and pulled two men who were also living in lower level apartments out to safety. Those two men are roommates Mike and Vince, who are living on their own with support from LADD – Living Arrangements for the Developmentally Disabled. (LADD has since helped Mike and Vince find and move into a new apartment.) I was fighting a lump in my throat after meeting Mostafa. He is such a kind, gentle and upbeat man who refuses to see himself as a hero. "This was just humanity," he told me.
Mastafa got to see Vince again at the LADD Taking Flight Awards and it so touched me to see their arms around each other. That embrace said it all.
I am thrilled that he and his wife will be joining us for A Night of CINspiration on Wednesday night so that we can celebrate that sense of humanity, for which Mostafa and his wife are beautiful examples, that breaks down those barriers of differences and brings us together human beings.