KindFlash Is Spreading Cincinnati Kindness
Carry out a random act of kindness, with no expectation of reward,
safe in the knowledge that one day someone might do the same for you. ~ Princess Diana
Cincinnati, it seems, is a growing hotbed for something truly beautiful. People are gathering to find opportunities to help others, just because they can. These people are part of a movement that is called #KindFlash and their impact is becoming increasingly far reaching.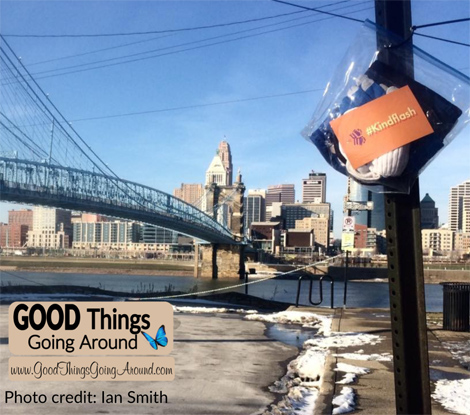 The group that has grown to more than 1200 volunteers just held its one year anniversary clothing drive. With more than 30 drop off venues, they collected 2666 hats, gloves, scarves and socks (plus 1118 other items such as ear warmers, coats, snacks, etc) for a grand total of 3,784 donations distributed to people in need throughout 51 Greater Cincinnati neighborhoods.
The whole idea is to spread kindness, without any expectations for return (except of course, the warm feeling inside of knowing that you have made a difference in someone else's life). Volunteers folded donations into clear ziploc bags with a note attached letting people know the items are free, and those bags are placed on park benches or sidewalks, tied to phone poles, or other places of high traffic. Many volunteers have said that no sooner were they walking away, they noticed those bags disappearing.
That Drive is just one act they are doing. Each month they come up with a different idea for impacting a different neighborhood and/or group of people – or non-human animals. Most of the time, they are events where volunteers have an opportunity to get to know the organization and individuals involved. This month they are collecting kitty litter and cat food for Ohio Alleycat Rescue.  In March, they will be visiting, getting to know and helping to fundraise for The Cincinnati Dragons, a youth wheelchair basketball team.
#KindFlash, originally known as Random Acts of Kindness, began about a year ago after Liz Wu had seen similar ideas in other cities on the internet. In a February snow storm, as she was huddled by her heater Liz got to thinking about the people who didn't have a heater to curl up next to. She saw a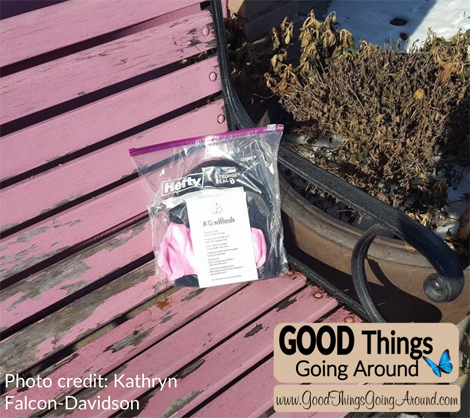 photo with a news article of people collecting items for the homeless, and decided to strong arm her friends into helping.
There was a post on Facebook, and the next thing Liz new, the Cincinnati movement had begun. Almost overnight it mushroomed with dozens joining in on their event. They organized drop off location and began putting word out that they were collected warm clothing. Donations began pouring in. Within ten days, more than 100 volunteers were involved and pulled together over 2000 items to distribute to more than 35 neighborhoods.
"We want to demonstrate how easy it is to make a difference in your community, and see that it doesn't take much time or resources. People can do most things on their own," Liz told me. "With #KindFlash, it is neat to see how a lot of times there is some relationship building between volunteers and an organization we help, or recipients of that organization."
Everyone of all ages is welcome to join. If you would like to get involved, they have a Facebook group here.
#GoodThingsCincy
Have you registered for the upcoming A Night of CINspiration, new events of Good Things Going Around? Space is limited, so register today!