The Good Things Going Around Pledge Is Spreading
A couple months ago I created the Good Things Pledge as an outlet to brighten people's days and inspire others to live for every moment, and to see and appreciate the good that is all around. All of us have within ourselves the power to make a positive contribution. Cultivating that good through a sincere respect, caring and appreciation is one of the most important gifts we can give.
What is the Good Things Pledge? It is a simple promise to remind yourself every day of what is positive. The Pledge is a personal vow that involves appreciation, being kind and being aware that every small act has the potential for a huge impact.
Take a look at some of the people who have recently taken the Pledge.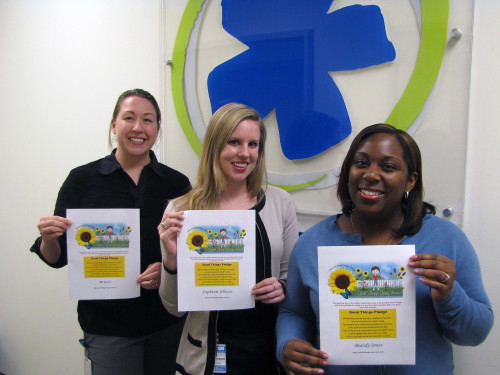 Jill Dunne, Stephanie Johnson, and Brandy Jones of the Cincinnati Metro
marketing team
Melissa Currence with the
Greater Cincinnati Foundation
"Working at The Greater Cincinnati Foundation, I know Cincinnati has a lot to give. I have the Good Things Pledge hanging up in my workspace and it reminds me to do my best every day to help our community. Cincinnati has wonderful neighborhoods and causes to support. Let's keep the good things going around!"
Taking the Pledge is simple. Just visit the Good Things Pledge page and fill in your information in the white box. I'll send you your certificate.