At 102 Years Old, Jo Got Back On A Motorcycle
Do you dream? What is on your bucket list?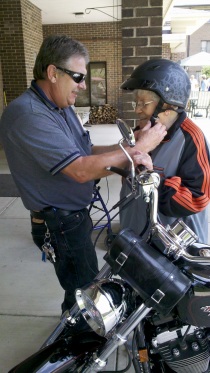 Well, at 102 years young, Jo Millhouse – a resident at Cantebury Court in Cincinnati's Episcopal Retirement Homes – still had a dream to be fulfilled. Notice I wrote that in past tense.
Jo's dream was simple, relatively speaking. She wanted to ride a motorcycle again. Much time had passed since she celebrated her 80th birthday going 80 miles an hour with the wind at her back. "I really enjoyed that one," she said. "I thought then that I'd keep adding one mile per hour in speed every birthday."
But that was 22 years ago. Lucky for her, staff there are all for achieving dreams. And this was her week to do it. One dream had changed though. This time around, as they were fitting her with her helmet, she told onlookers, "I'm not doing 102 miles per hour!"
Who needs to go 102 miles an hour anyway? I say, "Way to go Jo!"