Author Tami Boehmer Has Second Book On Surviving Cancer
I have known Tami Boehmer for many years, long before a diagnosis changed her life and her family's forever. She is someone who I admire so much for her fighting, uplifting spirit and her appreciation for everything that matters. Tami has used her circumstance and her skills to encourage and inspire others – those who are also living with cancer,  those who love someone with cancer, and really everyone. Tami recently published her second book. Thank you to her for sharing this post.
by Tami Boehmer (Award winning author, blogger, and speaker)
It has been seven years since I learned I had metastatic (stage IV) breast cancer. It was my worst nightmares come true. I had just celebrated five cancer-free years after being diagnosed with stage II breast cancer. My daughter had just turned nine years old. My first thought was, "Will I be around to raise her?"
According to statistics and a couple of doctors I spoke with, it was highly unlikely. One told me I would "most certainly die of breast cancer." No doubt about it. I responded, "I'm too stubborn to die", then left determined to prove her wrong.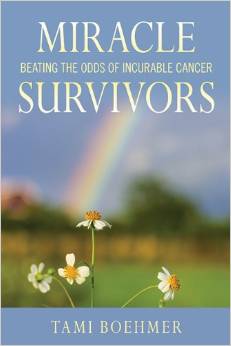 I recently read a quote on a metastatic breast cancer Facebook page: "Faith sees the invisible, believes in the incredible, and receives the impossible." — Anonymous. My faith was shaky when I was first diagnosed, but there was a spark there waiting to be ignited.
I had spent my career in health care public relations, where I wrote success stories about patients who beat the odds of illnesses. I took a permanent leave of absence after being diagnosed this second time, but started feeling empty and depressed. I decided to use my experience and share stories of people who had beaten the odds of stage IV cancer.
When I started interviewing individuals for my first book, From Incurable to Incredible, I had only seven months under my belt as a stage IV breast cancer survivor. My primary goal was to inspire hope and show that it was possible to beat the odds of a terminal or incurable prognosis. Not just for my readers; but for me, as well.
In Nov. 2014, my second book, Miracle Survivors: Beating the Odds of Incurable Cancer, was released by Skyhorse Publishing. I share my story, along with 23 other cancer survivors from around the country. With many years under my belt as a survivor, I got to know more people who are thriving years beyond what anyone expected and have learned many lessons from my own "school of hard knocks." The book reflects my new perspective, as well as those of others like Carole Kubrin, who has been living with stage IV, HER2-positive breast cancer since 1998, and Greg Cantwell, a stage IV glioblastoma multiforme (the most aggressive form of brain cancer) survivor since 2004.
The book also includes an introduction by best-selling author Bernie Siegel, MD, and forewords by miracle survivors ePatient Dave deBronkart (a stage IV renal cancer survivor since 2007), the best-known spokesman for the patient engagement movement, and award-winning blues vocalist Curtis Salgado (diagnosed with stage IV renal cancer in 2007), who was the inspiration for the movie, The Blues Brothers.
While I call the individuals in this book, "miracle survivors," overcoming the odds wasn't something that just happened to them. Each person took a very active role in overcoming their challenges by becoming advocates for themselves and others and never giving up.
There are no winners or losers or the right or wrong way to deal with cancer and other major life challenges. But I know from experience and from talking with hundreds of people living with cancer that how we live our life is a choice. As the recently departed ESPN commentator Stuart Scott said, "You beat cancer by how you live, why you live and the manner in which you live." That's what my work is all about.
Tami Boehmer is an award-winning author and blogger and speaker. Her second book, Miracle Survivors is available in hardback and e-book versions through Amazon, BarnesandNoble.com, Target.com, Skyhorse Publishing's website and via Tami's website, www.miraclesurvivors.com. An audio version is also available on Audible.com.