Cincinnati's Kelly Richey Talks About Her Inspiration
I'd like to introduce you to Kelly Richey. Kelly is a Cincinnati based musician, writer and educator who has been described as  "Stevie Ray Vaughan trapped in a woman's body with Janis Joplin screaming to get out". Having shared the stage with many legends, she has been listed as among the top 100 gifted guitarists by the Truefire Community in 2011, and frequently draws comparisons to blues guitar icons Jimi Hendrix and Stevie Ray Vaughan. Kelly has been teaching guitar almost as long as she's been playing; with over three decades of teaching experience under her belt, she is a deeply dedicated and inspirational guitar instructor who has taught well over 1,000 students to date.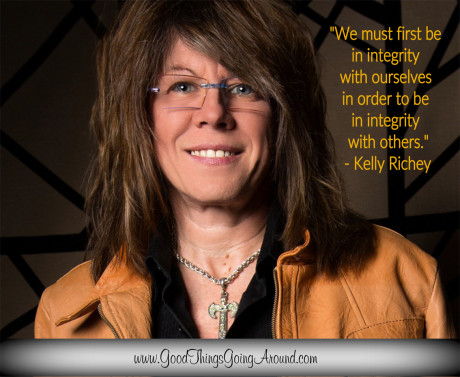 Additionally, in 2009, Kelly founded Powered By Intention, a Coaching Consultancy designed to educate, motivate, and inspire people to identify their life's true purpose and achieve the life of their dreams. And, she is president of Music4Change, Inc. a Cincinnati nonprofit organization committed to music education in today's schools as a vehicle for human expression, cultural understanding, and academic achievement. Three specifically aligned programs offer live performance, lecture, interactive participation and facilitate learning opportunities for youth.
As if all of that weren't enough, Kelly is a gifted writer and shares her talent as a facilitator for another nonprofit called Women Writing for a Change.
On Kelly's website, she candidly shares her own, very personal story – her journey as a person who has dyslexia and ADHD, and how they impacted her determination and success, and desire to help others succeed.
"Having a reading disability has caused two dynamics for me:  1) I have an insatiable appetite now for learning and 2) I have a passion for teaching and helping others learn.  Nothing excites me more than to work with my students and clients… teaching, coaching, consulting," she wrote.
"Had I not gravitated towards music and discovered books in audio form, I honestly don't  know what I would have done.  My life would have turned out much differently, I'm sure.  What I know now is that there is no cookie cutter mold to learning.  I'm proof that even someone with severe dyslexia can learn to play a musical instrument….For many years having dyslexia negatively affected my self-esteem.  It wasn't until I was in my late 20's that I began to realize I might actually be rather intelligent."
Please continue reading to learn more about Cincinnati's music legend.
GTGA: What is something people may not know about you?
Kelly: People mainly know me as a guitarist, singer/songwriter, recording artist, performer and guitar instructor, but there is an entire "other" side to my life.  I am a life coach and hold certifications as a Dream Coach and True Purpose Coach; I'm trained in Voice Dialog; and I recently became certified as a facilitator for Women Writing for a Change.  It is my deepest desire for my life's work to weave together elements of musical performance and recording by teaching one-on-one and workshops, and life coaching and facilitating writing workshops for personal growth and community building.
GTGA: Tell us about a challenge that you overcame in life and how it impacted you.
Kelly: I am dyslexic, so learning to read has presented me with a series of challenges throughout all stages of my life.  My dyslexia left me unable to succeed in school, as much of the understanding and support provided in schools today simply did not exist when I was in grade school.  Thanks to books in audio format, I've managed to work my way through hundreds of books over a lifetime committed to learning and self-education.
Here is an article on my blog, How Dyslexia Made Me a Better Teacher,  that addresses this in more depth.
GTGA: What are some of your simple pleasures?
Kelly: A great cup of coffee, conversation with a good friend, healthy places to eat out, and a good power-nap.
GTGA: What is one of your favorite childhood memories?
Kelly: One of my favorite childhood memories is listening to my grandmother tell me stories.
GTGA: Name three things on your Gratititude List.
Kelly: If I had to list three things I was most grateful for, they would be: all the great friends I've collected throughout my life, many of whom have been profound teachers; good health and strong constitution; and the ability make a living doing what I love.
GTGA: What is an accomplishment you achieved of which you are proud?
Kelly: Overcoming learning disabilities and finding a way to build a successful and sustainable career doing what I love.
GTGA: Tell us about someone who has been a positive influence on your life and why.
Kelly: My Uncle, Rev. Bob Brown, was one of my biggest influences. He was the preacher for the church where I grew up.  My uncle was a passionate preacher, teacher, storyteller and community builder.  Our church was the first church to integrate, and it was burned to the ground when I was 5 years old.  He was a leader in civil rights; he believed in separation of church and state; and he felt the church should be relevant if it was to serve in meeting the needs of people in their individual communities.
GTGA: What is a motto you live by?
We must first be in integrity with ourselves in order to be in integrity with others.