CINspirational People: Amy Scalia
We are eager to share our first CINspirational People feature focusing on Amy Scalia, publisher of Cincy Chic. CINspirational People will spotlight a broad range of people in Greater Cincinnati and some of what inspires them.  Please read what Amy shared with us.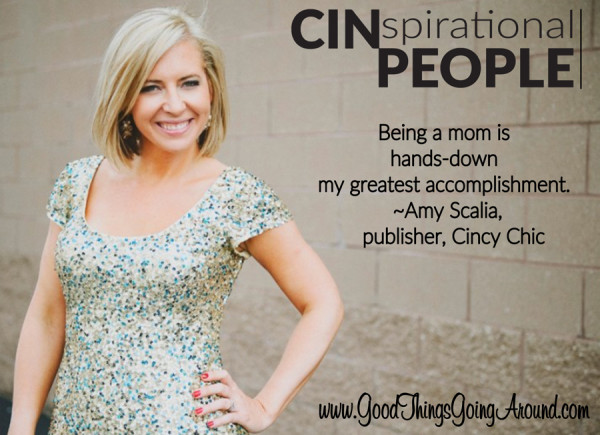 GTGA:  What is an accomplishment you achieved that you are proud of?
Amy: Being a mom is hands-down my greatest accomplishment. Not just because bringing a child into the world is a miracle (which it is and it's amazing!), but we experienced many issues getting pregnant. I wrote more about that here — but in short, after years of thinking I might not ever be a mom, I was able to and she's the greatest thing that's ever happened to me.
Second to that achievement is starting my business, being the proud owner for eight years, and the impact we have on the community. We provide weekly content to 25,000 subscribers, help hundreds of local businesses grow through our services, and we donate nearly $20,000 annually to local charities through our events.
GTGA: Tell us about someone who has been a positive influence in your life.
Amy: My grandma, Mabel Storer, was one of the first female newspaper reporters in Ohio. She had so many amazing stories, and it sparked a life-long fascination with media. She had such a giving heart, too, and that inspired me to add the philanthropy arm of our business where all our event proceeds are donated to select local charities.
GTGA: What is a motto you live by and why or how has it impact you? 
Amy: "Go to sleep with a dream and wake up with a purpose." This is my motto because I think it's important to not just dream, but also figure out a way to bring those dreams into reality.
GTGA: What is your biggest motivator?
Amy: Life is short. What more motivation do you need?
GTGA: Tell us about an act of kindness you have done, witnessed or been the recipient of and how that made you feel.
Amy: My husband has a severe case of rheumatoid arthritis and it's gotten much worse over the past few years. In fact, he got double hip replacements last year and double knee replacements a few months ago. All of this while I was pregnant and then with a newborn. I'd be writing this from the looney bin if it wasn't for the kindness of others. They came out of the woodwork for us. Bringing us food, helping us bring in and put together baby furniture, do yard work, you name it. Even just recently, we were at a restaurant after Pete got his new knees and we had the baby with us. The restaurant had a 45 minute wait and someone who already had a seat gave us theirs so we didn't need to wait and they sat there and waited again for a table. I couldn't believe it. These past few years have been my most challenging by far, but I'm humbled by and so thankful for all the acts of kindness that got us through it.
GTGA: Tell us about what you do and what are some of the reasons why you enjoy it.
Oh gosh. What don't I do?! haha! My main responsibility is running Cincy Chic, an online publication in Greater Cincinnati. I also oversee its sister publication in Columbus, which is called Cbus Chic, and its "brother" publication called Cincinnati Profile. In addition to that, I blog for Cincinnati.com and am on-air talent for Star64. What I love is that every day is different, but what remains constant is that everything I do tells the stories of local business owners and helps them grow.