Mistakes Happen
I was reflecting back on my work with our ReelAbilities Film Festival team. As you can imagine, planning an event of that magnitude got to be pretty intense at times. There were so many moving pieces, people involved, and details…not to mention hundreds of emails on a daily basis. I remember a conversation I had with someone on our team – a pretty darned amazing person. Such a hard worker. He is someone who I could always count on to get things done, and do them creatively, efficiently and with a positive attitude. Something happened, and honestly, I don't remember what it was (as I mentioned, it was pretty busy) but I remember him saying he didn't want any more mistakes to occur. I reminded him that this was a HUGE endeavor and that there are going to be occasions where mistakes happen, to just accept that they will and learn from them. In the scheme of things, he and everyone did an amazing job keeping things on track. ReelAbilities was a huge success and we should focus on that.
Anyway, this thought inspired me to share a quote. Don't fret mistakes. Accept them as part of life, learn from them and grow.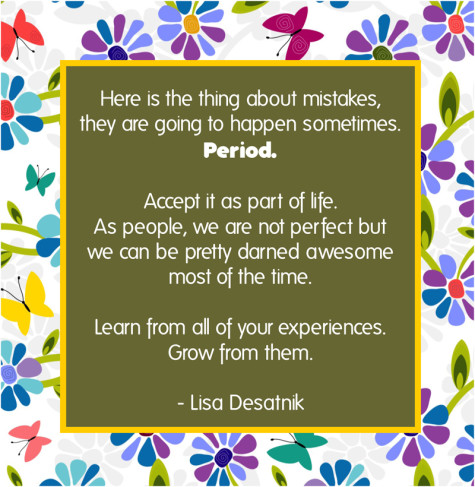 Here is the thing about mistakes,
they are going to happen sometimes.
Period.
Accept it as part of life.
As people, we are not perfect but
we can be pretty darned awesome
most of the time.
Learn from all of your experiences.
Grow from them.