Monica Magette Is A Good Things Pledge Champion
Being a Good Things champion means you recognize that you have within yourself the power to do, feel and nurture good things. We all have that power.  Some days we just need a little reminder and that is what the Pledge is all about.
Today Monica Magette became my newest Good Things Pledge champion.
I worked with Monica years ago and what I remember most about her is her huge smile that lights up a room and never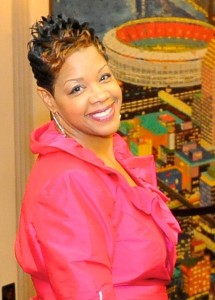 seems to flicker. We ran into each other over the weekend and that smile is as brilliant as ever.
If you haven't had the pleasure of meeting Monica, she has spent many years working for area nonprofits including Lighthouse Youth Services and the Urban League of Greater Cincinnati where she helped coordinate large signature fundraising events. She has also given of her time to help causes in her neighborhood of Wyoming and through Greater Cincinnati. Now she is focusing on expanding her own company – I'Moni Events, LLC – to produce, manage and consult on events.
I asked Monica why she became a Good Things Pledge champion. "The Pledge is a reminder to spread joy and it becomes contagious," she told me. "When you pledge to do good it becomes a commitment, and then you pass it along to other people."
 Are you a Good Things Pledge champion?
To become a champion, simply visit the Good Things Pledge page and  fill in your name. I'll send you a certificate.