My New Year's Reflections And Lessons Learned
It has become an annual tradition around New Year's when my mom reminds me of how much we need to appreciate every minute of every day because time doesn't stand still. When the clock struck midnight last Wednesday, one more year was behind us, never to be gotten back again. The 2014 hourglass expired.
But not before permanently etching memories into the crevices of my brain. These are the reflections that give me pause on New Year's. What has 2014 taught me about life and living; and about being a better person, friend, teacher and co-worker? How will I use these lessons to inspire myself and those around me to be better, stronger and more connected?
The Gifts of 2014
It was in 2014 when I became part of a team whose shared purpose is inspiring others to look beyond differences to appreciate each other's unique gifts that collectively strengthen us all. Through the Cincinnati ReelAbilities Film Festival organized by LADD, Inc., I have met so many people who share my passion for building a community where differences are celebrated and everyone is included.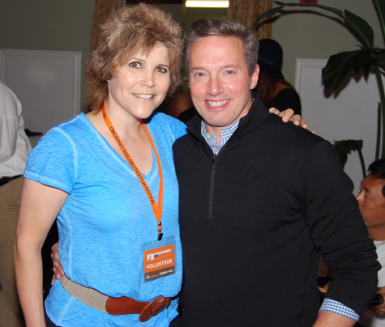 ReelAbilities gave me the opportunity to get to know world renowned photographer Rick Guidotti. I will always remember how, within minutes of our meeting, I felt as if we were lifelong friends. That is one of Rick's incredible gifts. It is how he is able to share the beautiful humanity in those with differences, in all of us actually. Through his images, his words and his heart, Rick inspires us to change how we see the world and how we see each other. Thank you to Rick for all that you are and all that you do.
There are so many powerful messages to be told and shared through the ReelAbilities Film Festival. I hope you will make plans on joining us.
It was in 2014 when our region – and the nation – was introduced to a valiant warrior, who, in a few short months taught us about courage and vision and purpose. By now you have probably heard the story of Lauren Hill. You probably even feel as though you know her personally. I have no doubt that her indomitable spirit has impacted you, strengthened that place deep in your soul where hope grows.
Lauren was less than two months into her 18th year when an MRI revealed one of the most insidious forms of cancers with tentacles weaving through her nerves. When she took to the court of her first NCAA college basketball game, it was before an unprecedented sellout crowd of 10,000+. They were her cheerleaders. She was their teacher. She was…is…a teacher to all of us.
Her quote was the headline of a USA Today story, "I want people to know, I will never give up." Lauren challenged us and challenged herself. Her goal was to raise $1 M for The Cure Starts Now Foundation by the end of the year. With media support and an army of fighters in schools, congregations, businesses, and communities here and nationwide, she met that goal. She looked cancer in the face and said, 'you have not won.'
None of us know when Lauren's journey here on earth will end but her legacy will live forever in all of us who have grown from her strength.
What have these 2014 lessons taught me?
Wow, there is so much. Truly, life can be so short. We never know from day to day what tomorrow will bring yet we spend so much time worrying about things that will be insignificant in a year. We stress over deadlines, mistakes, and what if's. We go from place to place without noticing the beauty around us or the person having a bad day. We don't stop to ask how we can help. We forget to smile at passers-by. We say we will reach out later to that friend we have lost touch with. We overlook letting those around us – our co-workers, family and neighbors – know we appreciate them. We let our fear of failure keep us from pursuing our dreams.
Time goes by too quickly to take it for granted. In 2015, I am going to pay more attention to smiling at strangers and noticing the scenery around me. I am going to reach out more to people in my life and remind them that they are valued and appreciated. I am going to do more to help others. I am going to make mistakes, and learn from them. I am going to pursue my passions.
What lessons will you carry forward in the new year?