The Quiet Side Of Bravery By Cambray Smith
"More and more I understand what people do
I appreciate the daily braveries…"
What People Do by Naomi Shihab Nye
Cambray Smith is a senior at Wyoming High School in Cincinnati and is interning with Good Things Going Around through the summer. Please visit back as this tendor, very talented student, leader and philanthropist shares her life lessons in blog posts.  To learn more about Cambray, please visit her introduction page and you can find her posts by doing a blog search or clicking on the category with her name.
I have lived out of a backpack in the wilderness with strangers. I have been stranded in a hurricane full of sewage water in Mexico. I have flown across the world without my family. However, I do not believe these are the things that make me brave. My braver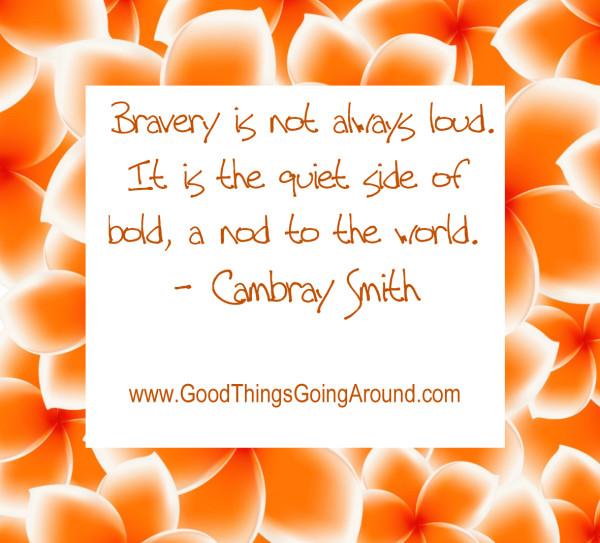 y is demonstrated in the mundane, made clear through daily vulnerabilities.
Come here, sissy. Play with me. This repeats three times in my life. Each time, there is a new sister's face squeezed in my hands, suffocated by the love that I simply must transfer through my arms. I love you. You need to know this now!–but my words and even my embraces are not enough. My sisters: what you mean to me! If this is sibling love, I cannot fathom what it must take to convey the love to one's child; I will be inadequate. Still, I must try communicating the overflow of my heart daily, even if I often fail.
Dwarfed by the cathedral, I cradle my violin like a broken bird before allowing it to flutter to my shoulder. Musette by Bach comes out of the archaic machine as my slippery middle-school hands attempt to navigate the fingerboard. Compared to the younger children who are all much better than I, my performance sounds rather pathetic, and my erratic, frantic heart does not help the rhythm that I'm so desperately seeking. I dread these recitals. I do not play violin because I am good at it (I am not); I play because it is what I felt stirring within me that demanded expression.
The gym class mile. My junior high body groans as it anticipates the pain of the fitness test. As I jog, tears slip out. I hate this. I hate myself. Why did I quit sports? When did I decide that I could not be smart and theatrical and athletic because that was too much? Years later, I have silenced that voice, and the girl who could hardly run a mile successfully completed a half marathon last May. The euphoria of the finish line and the fullness of Cincinnati air in my lungs cannot even begin to compare to the embrace of my best friend, the one who pushed me to conquer every hill with a smile on our faces.
Coach Cambray, Coach Cambray! They are calling my name as I briskly walk down the deck, contemplating new sets for my kids. What am I swimming tonight? Are you and Coach Stephen married? Are you listening to me? That is what they are really asking as they chatter nonstop. I smile at gapping teeth and I want them to feel wha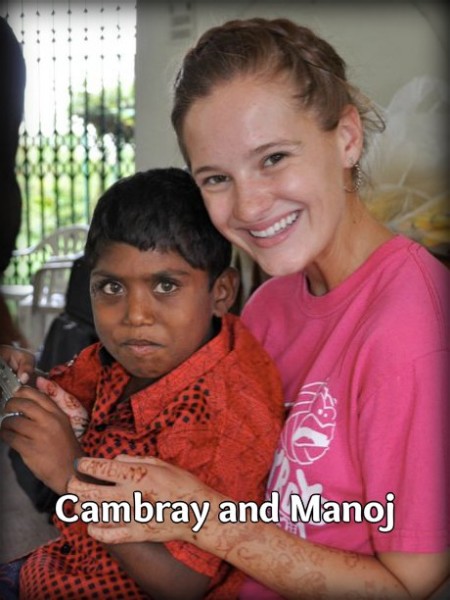 t a large space they occupy in the caverns of my heart. I roll my eyes lovingly and tell them a story about when I was ten and I got my toes stuck in a refrigerator grate. They laugh and I light up. These children are teaching me things that I used to know.
Suddenly, I am in India. India, I tell you! How did this come to be? I cannot fathom the ocean I have crossed nor the seas of sorrow that see in the faces of abandoned children. Yet always the jasmine-scented joy is what I remember most. Speak my name. Tell them about me. Months later, I am in front of a crowd of over one thousand people waiting for my words. I tell the stories of Manoj and Madhuri, orphans that both broke and filled my heart in Hyderabad. My body is more tranquil than it has ever been. I've found where I belong: sharing stories and spreading what I love.