Voices of Giving Awards Honored Those Who Give Back
It's so neat to see people whose lives were touched in a meaningful way, and who, when times got better never forgot and choose to give back.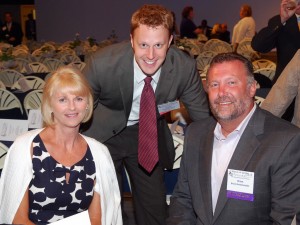 Brian Brinkmoeller is one of those examples. He was a struggling single father to three curious and active girls who had a love for learning. On his own he wouldn't have been able to afford the tuition for the Cathedral Child Development Center, a program of Children, Inc., but the organization was committed helping them no matter the circumstances. Now a successful business owner, Brian has remained steadfast to giving back to the agency that helped his family. In addition to serving on its board, he established the Monica Hughes Children's Fund at the Greater Cincinnati Foundation to support families like his own. The Fund commemorates a young teacher at the Cathedral Center who died suddenly at age 32, and the very teacher who treated Brian and his girls as her own.
"Brian's thoughtful gift will keep giving, ensuring that Children, Inc. will always be able to serve kids regardless of their family's financial situation," said Jordan Huizenga, director of development for Children, Inc.
Brian and 23 other warm hearted philanthropists in our area were honored recently by the Greater Cincinnati Planned Giving Council with Voices of Giving Awards. This was the fourth year that I've helped them with the post even publicity and it is so inspiring to hear their stories.
The 14th annual Voices of Giving Awards were presented by PNC and were hosted by Local12 News Anchor John Lomax at CET.  The program included featured speaker Lee Carter, co-chair of the 2012 World Choir Games United States, and a performance by the Cincinnati Girl Choir directed by Dr. Eva Floyd. The 2012 event was co-chaired by Mary Alice Koch (PNC Bank) and Chandra Mathews-Smith. Committee members included Sue Ellen Stuebing (CET), Carol Stevie (CISE), Tracy Monroe (Ronald McDonald House), Michelle Mancini (American Cancer Society), Telly McGaha (Redwood), Susan Kulick (Cincinnati Children's Hospital Medical Center), Karen Kruer (NKU Foundation), Misty Griesinger (Association Connection), Jim Friedman (The Jewish Federation), Lori Asmus (Episcopal Retirement Homes), and Sally Alspaugh (Xavier University).
 "Greater Cincinnati nonprofits making measurable impact in the communities where we live and work rely on generous donors to help them sustain their mission. Our Voices of Giving Awards is our way of saying 'thanks' to our philanthropists for being purposeful in helping to ensure the longevity of causes important to them," said Lori Asmus, Voices of Giving committee member.
The Greater Cincinnati Planned Giving Council is a professional association for people whose work includes developing, marketing, and administering charitable planned gifts for non-profit institutions and a variety of other legal and financial settings.
2012 Voices of Giving honorees
To view all of the photos from the event, please click here.
(Note:  photo is of Cindy and Brian Brinkmoeller with Jordan Huizenga in the back)