The Value Of Mentoring – One Volunteer's Story
Note:  this is a guest post written by Nora Cordrey
As young people around the Tri-State and across the nation prepare for the rite of passage known as high school graduation, take a moment to think about the ones who had to overcome incredible odds to get there. In many families, going to college is a given. Other teens have never known an adult who finished high school and chose to continue their education. To many, that sends a less than positive message about the value of education.
As a volunteer with Big Brother Big Sisters of Greater Cincinnati, I've spent years mentoring Jamaysha. We met when she was 9—wide-eyed and full of spirit, but also a victim of a world she didn't create. Her father died before she was born, she seldom sees her mother, her guardian passed away when Jamaysha was 14, and she's been enrolled in five school districts because of constantly having to move.
Through it all, as her "Big Sister," I have encouraged her to stay focused on her school and to take advantage of every opportunity.  My husband and I learned of the Upward Bound program which assists first generation college-bound students with tutoring, enrichment activities and developing leadership skills. Once she was accepted into Upward Bound, Jamaysha committed to and has participated in the program for the last four years. This involvement, and her hard work, has helped prepare her for college. In the Fall, she will attend Cincinnati State, studying culinary arts.
My "Little Sister" is graduating from high school, one of the few members of her family to do so. She ranks 34th in a class of 220 with a grade point average of 3.13. She's an inspiration. Not content to sit on the sidelines, and overcoming transportation issues, she found a way to participate in several extra-curricular activities and hold a job. She has learned the value and pleasure of giving back to the community and we have volunteered together at charity events. I believe Jamaysha will someday be an incredible mentor herself.
I am not Jamaysha's only mentor and join teachers past and present, our Big Brothers Big Sisters case manager, the director of Upward Bound, Jamaysha's family and others in congratulating her and all the other young people who are overcoming circumstances to find success.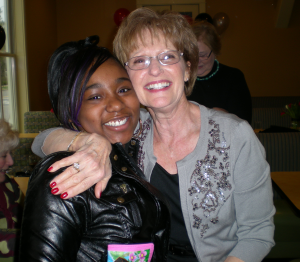 As adults, we have a responsibility to the young people in our community. There are many more Tri-State children who need mentors, who need guides as they head into the future. The mission of Big Brothers Big Sisters of Greater Cincinnati is to help children become successful in school and in life. Surely that's what we all want and, surely, what all children deserve.
Consider becoming a mentor today.