Aaron Collins Last Wish – Kindness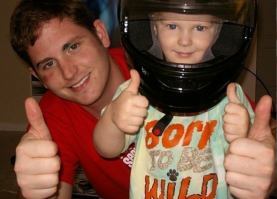 Aaron Collins is described as the type of person that took great joy in unexpected kindness.  Once after receiving exceptionally bad service at dinner, from a rude waitress, he left her a $50 tip. Things like this, given or received, were what he thought left a mark on a person's life," on the website.
A man with so much good in his heart was taken from this earth too soon. Aaron died July 7, 2012…just three weeks after his 30th birthday. But before his life ended, he made a last wish…to brighten someone else's day and pay kindness forward.
What was his wish? Giving a random waitress a $500 tip after ordering pizza. After raising money through a website they built, his family carried out that wish at Puccini's restaurant in Lexington, Kentucky on July 10.
Aaron's brother Seth wrote, "We think he just wanted to provide a random act of kindness and generosity for someone he thought was under appreciated; the kind of thing that would make a lasting impact they would never forget."
Mission very accomplished.
I found this note on the website:
"I just wanted to take a moment to thank all of you for the overwhelming amount of support you have given my family. Since last night we have received over $10,000 in donations. When I started this site I only expected to receive donations from friends and family. I was hopeful that we would get enough to make my brother's wish come true. Even in my wildest dreams, I imagined we would receive enough money to do this for 2 waiters or waitresses. What has happened is absolutely incredible.

Right now we have enough money to change the lives of 23 more people, $500 at a time. That is nothing short of amazing. Please know that absolutely every penny we receive will go toward nothing but this. We will pay to host the website. We will pay for the food. Absolutely 100% of the donations we receive will be given to random waiters or waitresses. Our goal is to do this once a week, for as long as you give us the opportunity."