Cincinnati Students Pay-It-Forward To Sick Children
Children helping children. I think that is such a beautiful message, and a beautiful cause. And it is the driving force of a nonprofit that has engaged youth in 30 states to pay-it-forward, inspired more than 250,000 hospitalized children and their families.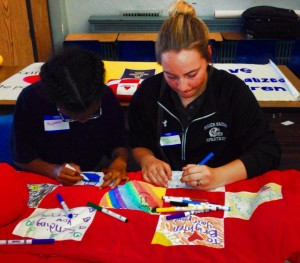 That nonprofit is Soaringwords, Inc., and recently it collaborated with 60 students from Cincinnati Roger Bacon High School and St. Francis Seraph Elementary School to decorate 100 SoaringQuilts® and SoaringPillows®.  Each one with inspirational messages and artwork based on superhero themes about "Never giving up!"
Representatives from Soaringwords delivered 25 SoaringQuilts® and 25 SoaringPillows® for the patients of Cincinnati Children's Hospital Medical Center and did a short program at the medical center's Seacrest Studios. Then the Soaringwords delegation headed to Shriners Hospitals for Children, Cincinnati where they led a Soaringwords + Zumba® dance experience to celebrate wellness and fitness for patients and families. This experience was made possible through a grant from The Manuel D. and Rhoda Mayerson Foundation.
Soaringwords' mission is to lessen the negative impact of serious illness by embracing hospitalized children, families and staff, encouraging positive health and healing. Soaringwords provides fun, creative and educational activities both in person and online based on positive psychology concepts that enhance well-being.  Lisa Honig Buksbaum, Soaringwords CEO & Founder started the non-profit organization thirteen years ago after three experiences with death and illness in her family occurred in a 10-month period.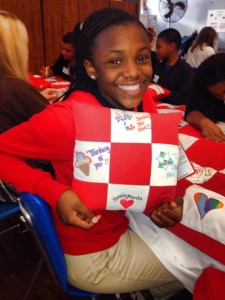 For the students of Roger Bacon, that day was the culmination of a school year where they internalized the values of service by mentoring their Bacon Buddies from St. Francis Seraph Elementary School to do something positive for children who are sick. "Today changed the lives of our students as they used their character strengths of kindness, love and creativity," said Alicia Ausere, director, community outreach, Roger Bacon High School