Cincinnati Students Showing Their Character Values
Some 1000 Cincinnati school children are proudly telling the world they are being the best they can be. They're wearing t-shirts that they earned for demonstrating positive character values.
The incentive project was a partnership between TSC Apparel and the Character Council of Greater Cincinnati and Northern Kentucky and Rees E. Price Academy, Ethel M. Taylor Academy, and Westwood School, all Cincinnati Public Schools who have adopted school wide character education programs to create a safe and positive culture for learning.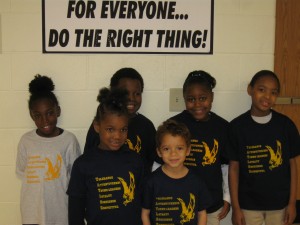 The t-shirts carry a character message and artwork designed by the students themselves.  A Westwood student came up with the theme, "Being the best at getting better!" Similarly, Ethel M Taylor shirts include a student-designed message, "Others wish for it, we work for it!"
Students earn t-shirts through their demonstration of kindness, respect, and positive behavior.  At Taylor Academy, chosen students are recognized monthly for their character in a ceremony that is broadcast internally to students and staff.  At right are Taylor students of the month.