How Woodfill Elementary School Students Are Helping Others
Great for them!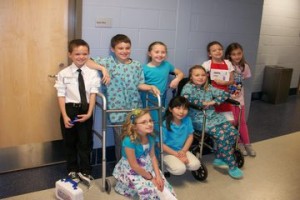 How thoughtful for these third grade students at Woodfill Elementary School to realize the loneliness of long term hospitalized children who can not have their family at their side. With the help of their teachers, and a little research, they found Josh Cares, a non-profit organization that offers loving support to seriously ill kids  when a parent or family member cannot be there. Josh Cares funds professionally trained Child Life Fellows who provide consistent comfort, care and companionship for a child whose family would be by their sides if they could.  The Woodfill students created a skit in which they role-played the responsibilities of the Child Life Fellow in the life of a child patient and charged admission to see it. They also held a bake sale.
All in all, their project raised $579.05. And not only that, it taught these creative third graders an important life lesson…about caring and responsibility.  I like those kinds of lessons.
I also want to mention this service learning project was made possible by Children, Inc.