Oklahoma Restaurateur's Note Of Kindness Teaches Us A Lesson
By now, you may have already seen this photo as it has gone viral since being displayed outside P.B. Jams, an Oklahoma restaurant, and on Facebook.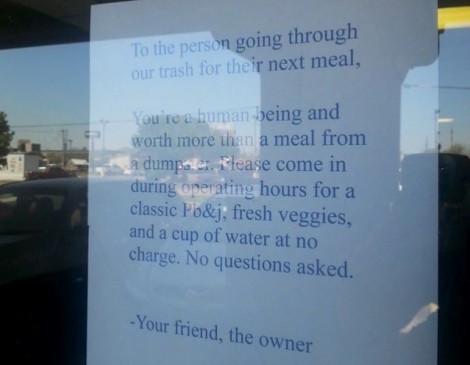 The restaurant's owner, Ashley Jiron, posted it after realizing an anonymous person had been sifting through her garbage. She told ABC News of how her heart sank when she noticed bags and containers in her dumpster that once held disposed food, were emptied. "I knew I needed to do something right away," she said.
Perhaps that person's plight struck her so deeply because Ashley understood better than most.
"I am a mother of two little girls and I've struggled like a lot of single parents out there, and I've had to ask for state assistance food stamps and such," she told Good Morning America. "Sometimes at the end of the month there wasn't enough to feed me and my family. Something as simple as even just a peanut butter and jelly sandwich is very comforting to somebody and maybe even offer them a few words."
It got me thinking, of the times in my own life when I have faltered. I will never forget the people who were there for me with support and encouragement, even when I didn't ask for it. They were just there. They grounded me and kept me focused in a positive direction. Those acts of love and kindness embed in our souls.
They strengthen us. They nurture us. They give us wings.
There is something so powerful about our human connection. Often we don't even know of the impact we are having on those whose lives we touch. But make no mistake; kindness has huge potential for affecting change in individuals, families, workplaces, classrooms, and the community.
And the giver can be just as much the receiver as its effects boomerang. Helping someone else has a way of lifting ourselves up as well, even more so sometimes when we are dealing with our own challenge.
Yet, how often is it that we know someone may be going through difficult circumstances but in our busy and already cluttered lives, we don't reach out.  Not because we are not generous people. We just don't get around to it for any number of reasons.
Ashley and her compassionate sign that has been seen around the country, maybe even the world, make me question – if the tables were turned, if I had seen that someone had been rummaging through my garbage, would I have posted a sign like hers.
The truth is, in my life, I have been a shoulder for so many people. I have mentored youth. I have given of my time and resources to help people when they needed it. I have encouraged others to see their own strengths when they were focused on their weaknesses. I have volunteered for causes when I can.
But…I may not have thought to put that sign on my restaurant door if I noticed someone had gone through my trash.
I am so inspired by Ashley's gesture. Whether or not that anonymous person comes forward, Ashley has reminded me of the power we each have to impact those around us.
Let's make a point to not forget.