Hamilton County's Largest Dog Park Coming Soon
We are so blessed in Greater Cincinnati to have so many beautiful, lush parks. I was reminded of it as I drove on Winton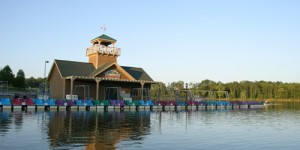 Road recently on my way to the Hamilton County Park District office.
It was a brilliant, sunny day, the kind of day that calls to you to come play. And, as I looked to my right I saw the body of water where I remembered feeding ducks as a child and grilled marshmallows and hot dogs on its banks. Only as an adult, what I saw in the over 2,500 acres surrounding me was a wonderland of lush greenery. It was inviting me to walk its trails and etch ripples in its mirror-like lake. "I will definitely be back soon," I thought as I looked for the turn.
I was headed that day to the administrative offices for the Hamilton County Park District and Hamilton County Parks Foundation to talk with Amy Hoffman about the new Simmonds Family Dog Park, which, when it is finished will be our region's largest and probably most beautiful dog park.
I heard about it at the SPC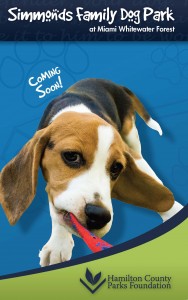 A Cincinnati Walk and I couldn't wait to learn more. Play has such an important role in our dogs' physical and psychological success, and it is so important in building strong relationships with our pets. It is no wonder dog parks are becoming so popular.
What makes the Simmonds Family Dog Park different is that is part of Hamilton County Parks. Actually it is being designed on over 11 acres at the scenic Miami Whitewater Forest. And if you have ever spent time at Miami Whitewater Forest, you know it is a spectacular setting for relaxing, learning, playing, and growing.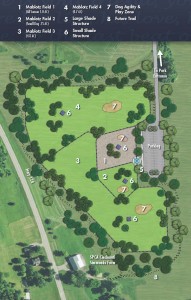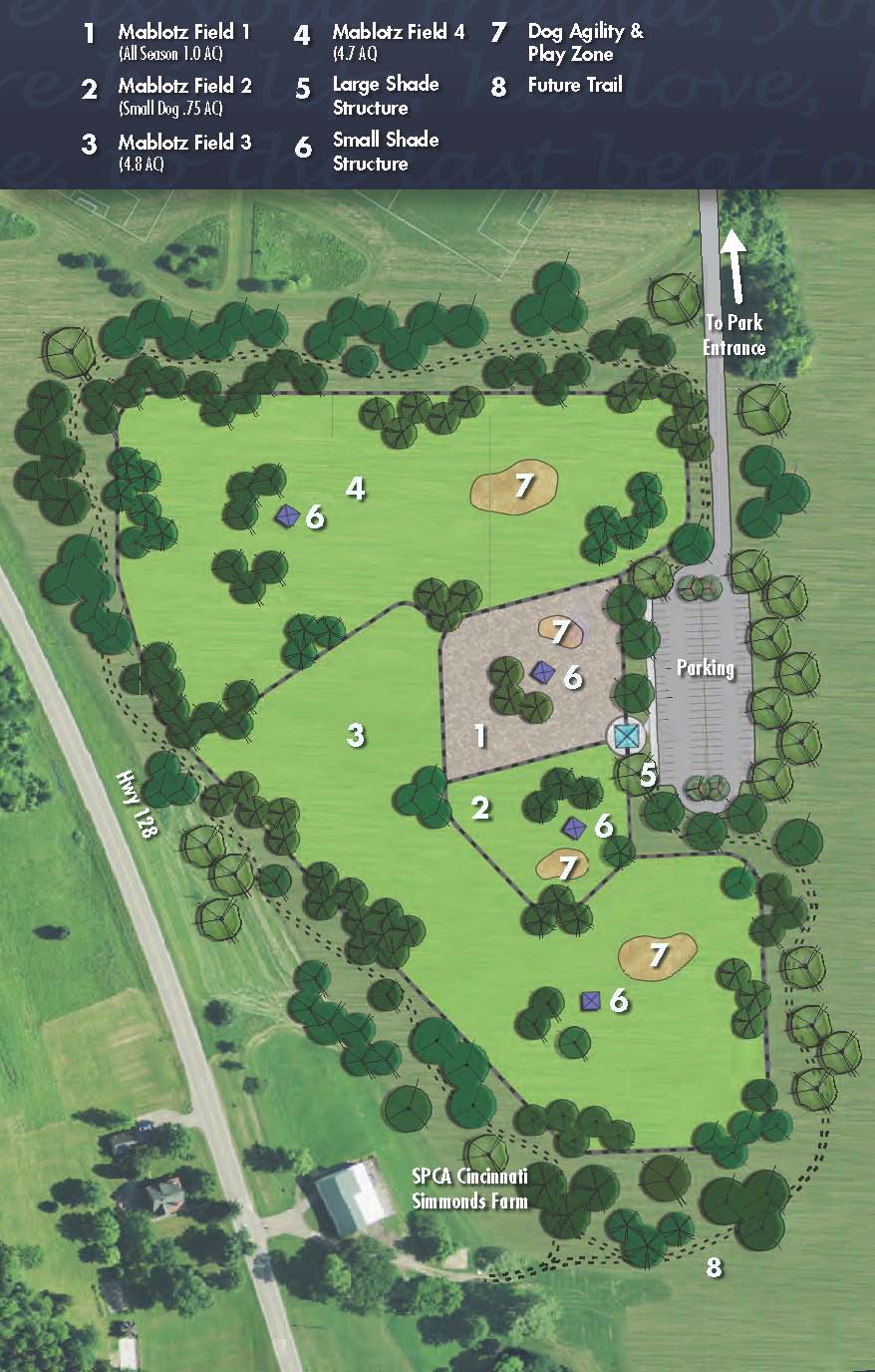 The new Dog Park, scheduled for completion in the spring of 2014, will include four separate fields including an all-season play field; trees and structures to provide needed shade on hot summer days; strategically placed benches; dog agility and a play zone.
Also part of the project, the SPCA Cincinnati is building an adjacent facility to provide care for large animals and provide farm educational opportunities for school age children.
Can you imagine? 11 acres of total fun for you and your dog in one of the region's most beautiful settings!
Hamilton County Parks Needs Your Help
While the land for the new park was donated, there are still a lot of expenses in preparing the land, purchasing and building the structures, building roadways and other infrastructure. Not to mention the maintenance expenses.
They are $500,000 away from their fund raising goal of $1.1 million to pay for the project. There are a variety of contribution levels.
If you can help, please visit HCParksfoundation.org