Auditions Being Held For TEDxCincinnati
Do you have an idea worth spreading? I encourage you to audition for the TEDxCincinnati main stage event that will be October 16. It is the first time ever that TEDxCincinnati is holding auditions. If you are selected, you no doubt will be speaking before a packed sell-out audience October 16 at Memorial Hall.
It is such an awesome event and organization. If you are unfamiliar with TEDxCincinnati, it is a local program offering events that bring people together to share a TED-like experience. TEDTalks videos, live speakers, and sometimes entertainment combine to spark discussion about a broad range of topics. TED is a nonprofit that supports world-changing ideas. At TED, the world's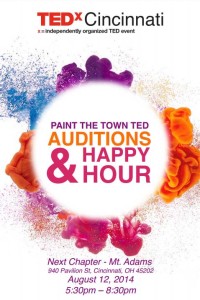 leading thinkers and doers are asked to give the talk of their lives in 18 minutes or less. Talks are then made available, free, at TED.com. TED speakers have included Bill Gates, Jane Goodall, Elizabeth Gilbert, Sir Richard Branson, Benoit Mandelbrot, Philippe Starck, Ngozi Okonjo-Iweala, Isabel Allende and former UK Prime Minister Gordon Brown.
"What is truly magical about TEDx events is the enthusiasm that they spark for issues. We are all about energizing people, opening dialogue, and moving people to action," said Jami Edelheit, TEDxCincinnati curator and organizer.
Want to audition?
Auditions will be held at the upcoming TEDxCincinnati happy hour – August 12 from 5:30 pm to 8:30 pm at the Next Chapter in Mt. Adams. (Tickets are $20 and can be purchased through the website.) HOWEVER, you must reserve your audition spot by emailing TEDxAuditions@gmail.com. Each speaker will have up to 2.5 minutes to share their idea.