Cincinnati Appalachian Festival Is A Good Thing!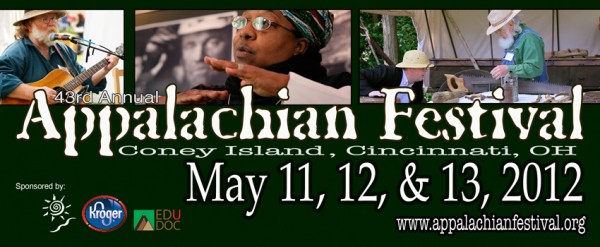 Mother's Day weekend in Cincinnati just isn't the same without the region's most popular spring festival – the Appalachian Festival. And the three day event is back – May 11 to 13 at Coney Island – packed with down home fun for the whole family. (For hours and pricing, please see below.)
The 43rd annual Appalachian Festival — presented by The Appalachian Community Development Association to help raise awareness of Appalachian culture – will re-create authentic mountain life with down-home music, dance, storytelling, food and crafts. Appalachian heritage runs deep throughout this entire region with more than 300,000 people claiming Appalachian ancestry.
It's hard to believe I've been working on the publicity for the Festival for over 20 years (I started in grade school). It is such a fun event.
Appalachian Festival 2012 release
Hang out with the Appalachian Festival on Facebook by clicking here.
The Appalachian Festival has always been known as a value-packed festival with modest ticket pricing. And now it is even better:  Friday, May 6, is extra special with a half-price admission all day and night long. "Frugal Friday" pricing is adults $4, seniors $2, and children 4-11 $1 (children under 3 get free admission.) Pricing on Saturday and Sunday is adults $8, seniors, $4, children 4-11, $2. Parking is $6.
Festival hours are Friday 9 a.m.-9 p.m., Saturday 10 a.m.-9 p.m., and Sunday 10 a.m. to 6 p.m.
 Don't forget to check out MY SIDEKICK AND ME while you're here for
pet behavior and fun posts. Just click here.

2 Responses to Cincinnati Appalachian Festival Is A Good Thing!