Cincy Story Mural Unveils Project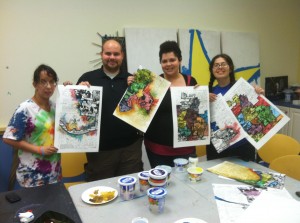 Cincy Story Mural Design Team
Several months I told you about a project bringing Cincinnati's diverse community together through written and visual stories. That project – Cincy Story Mural – is a between Starfire Council, DIY Printing, Public Allies, and Cincy.com, with artist Krista Brinkmeyer at its helm. And this Wednesday night at 6:30 p.m. at Starfire, after months of dedicated work, collaboration, artistry and mindfulness, the murals will be unveiled. (Starfire is located at 5030 Oaklawn Drive; Cincinnati, OH 45227) Everyone is invited!
The four murals will be installed at four locations:
Coalition for the Homeless, Over the Rhine
Norwood City Schools, Norwood
Santa Maria, East Price Hill
Starfire, Madisonville
About Cincy Story Mural:

The visionary behind the project, Krista is her late 20's, and has always had a passion for expressing herself through storytelling – sometimes by capturing moments in photographs and sometimes through written word. She also has a knack for making friends, an important quality for any role let alone the role of project director.
Cincy Story Mural used harvesting events – get togethers where the public has been invited to share photos, videos, narratives, and drawings to help tell the story of their unique corner of the world in four murals.