CINspirational People: Caleigh Willis
CINspirational People is a new feature of Good Things Going Around profiling diverse people of Greater Cincinnati, what inspires them, and what is inspiring about them. You can read more profiles by clicking on the link at the top of the blog. Do you know someone to suggest? Please reach out. Thanks!
Today we are featuring Caleigh Willis, director of marketing for the Anthony Munoz Foundation.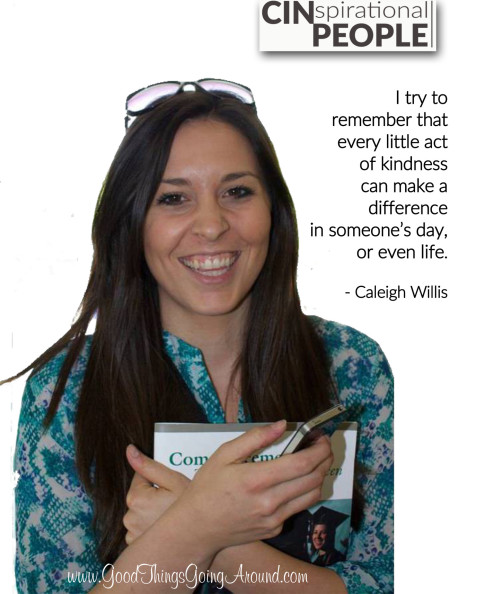 GTGA: What is an accomplishment you achieved that you are proud of?
Caleigh: I don't think I have had a singular moment in my life that has made me the most proud. As I reflect, I'm proud of the journey I took to get to where I am today.  I am a mother, a wife and a member of one of the greatest communities around. I get to come to work and help make our city better; while in the process, work with some amazing people. I couldn't imagine being in a better place.
GTGA: Tell us about someone who has been a positive influence in your life.
Caleigh: My mom has made such a positive impact on my life. She is the most hardworking person I have ever met, but is also equally the kindest. She has always unselfishly given and helped others. I think that's where my passion for making a difference comes from. She always taught me to strive to be the best person I can be, in every aspect of my life.
GTGA: What is a motto you live by and why or how has it impact you?
Caleigh: I have two. My first is on my computer screen at work and says " I alone cannot change the world, but I can cast a stone across the waters to create many ripples-Mother Teresa". I try to remember that every little act of kindness can make a difference in someone's day, or even life. Where there is an opportunity to make someone smile, you should always do so!
The second is "Live with intent, and not out of habit". This is my morning mantra. It's so easy to get caught up in the repetitiveness of life. Sometimes I have to consciously make an effort to get out of my daily routine and try something new, see old friends, or visit a new place in our city. If I don't, I feel like I'll look back on life and regret the memories I didn't make.
GTGA: What is your biggest motivator?
Caleigh: On a personal level it's definitely my daughter. I find that I push myself to be a better person because I want to be the best role model I can be for her.
In a work atmosphere, it's the kids that we meet and become part of our little Muñoz Foundation family. We have scholarship winners that have overcome such adversities, but never let that define them. Those kids motivate me to continue to do all that I can at the foundation in order to help more youth like them. I hope one day they all realize that they have made just as big of an impact in my life, as I may have made in theirs.
GTGA: Tell us about an act of kindness you have done, witnessed or been the recipient of and how that made you feel.
Caleigh: This was the last question I ended up answering because it's truly the most difficult. I'm constantly surrounded by people who give tirelessly to others and think nothing of it. They don't do it for the recognition or awards. They help our youth and surrounding communities because they care about the betterment of them. Every act of kindness I see from our volunteers, the youth we impact, or just general supporters makes me realize that there is so much positive in the world and every person is capable of adding to that.
GTGA: Tell us about what you do and what are some of the reasons why you enjoy it.
Caleigh: My title at the Anthony Muñoz Foundation is a little deceiving. I get to wear several different hats. I manage our internship program, develop and coordinate several of our Impact Programs including Whiz Kids and our two scholarship opportunities, as well as implement all program marketing plans. I feel truly blessed to be able to come to work for this foundation every day. This job gives me the opportunity to help make a difference in our community, while also pursuing my passion for marketing and communications. I would say that the one singular thing that I enjoy most is meeting the amazing people we have in our community. I've been impacted and become a better person by so many people I have met while working here. The foundation has made me realize what an amazing city we live in and I am so proud to call Cincinnati my home.