CINspirational People: Cinny Roy
CINspirational People is a feature of Good Things Going Around profiling diverse people of Greater Cincinnati, what inspires them, and what is inspiring about them. You can read more profiles by clicking on the link at the top of the blog. Do you know someone to suggest? Please reach out. Thanks!
One of my summer interns, Liza Hartke, caught up with Cincinnati resident Cinny Roy, founder of the Eve Center.
The Eve Center is an organization of Christian women committed to promoting emotional, spiritual and relational healing for adult women. This is provided in a safe, confidential environment, at no cost to the client, through one on one peer counseling program, recovery groups, book studies, resource library, and Volunteer Peer Counseling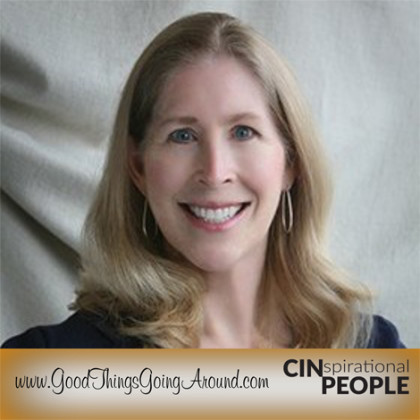 Education.
Please learn more about her below.
GTGA Liza: Hi Cinny! Tell me about yourself?
Cinny: I am married with three adult children who we love so very much. I enjoy vegetable and flower gardening, reading historic mysteries, going to bootcamp, eating at new restaurants, being with friends and family
GTGA Liza: How did you get involved with the Eve Center?
Cinny: In 2002, with 1 year to go on my master's degree in counseling, I thought 'there has to be a way to honor women's life walks and all the wisdom they have gathered, teach them to share it with other women but without all of them having to be credentialed therapists.' I found a model in Indiana, took their first leadership training in spring of 2003, came back to Ohio and on 9/1/03 founded the Eve Center. I had a notebook filled with materials, a laptop, a cell phone but no volunteers, board or location.
By June 2004 we opened our doors with 11 clients and a trained 'guinea pig' group of peer counselors. Today we are seeing about 140 women from over 16 counties providing peer counseling through face to face meetings, book studies and recovery groups.  Being women only, biblically based, extremely confidential and no cost – well the women come: to give care and to receive care. Over 100 volunteer peer counselors receive 30 hours of basic counselor training. We then grow them, mentor them, lead them so they can care for the women who come. Visualize two consumer groups: the volunteers and the clients; all need hands on care.
GTGA Liza: Tell me a little about the Eve Center Organization. What do you do there?
Cinny: My role has moved from founder, first trainer, day to day operations manager to executive director: oversight, coach, policy development, donor development. We have eight part time staff now. If I do a good job I will work myself out of a job J
GTGA Liza: What is the most rewarding part of your job?
Cinny: It would be seeing women's lives changed for all eternity. They then impact their spheres of influence: home, family, friends, church, school, work, and neighborhood.  This is seen in the lives of the clients AND the volunteers.
GTGA Liza: Who is your biggest inspiration and why?
Cinny: My biggest inspiration comes from women who did not have a good start in life and now need to learn better ways of navigating life. Also my grandfather and my father: each took individual paths that did not follow the expected norm of their professions and society of the time.
GTGA Liza: What is a motto you like to live by?
Cinny: 'We are all a mess and we all need Jesus' and 'come play with me'. The first notes that no sin, no wrong we do is worse than any other. And no one can be better than another before God. Only Jesus clears the deck for me to have a right and healthy and free relationship with God, the Creator. The second motto has to do with how I am: no matter how hard, how awful a woman's story, WE CAN HAVE JOY and get out of the mess life has thrown.
GTGA Liza: What's next for you?
Cinny: I am supposed to be on a writing sabbatical. Soon… soon I will take time to finish writing training curriculum so that others who have requested the Eve Center model, can take it to their city, state, wherever, and with God's leading provide peer counseling for women and men.
GTGA Liza: How can people get involved?
Cinny: Basic peer counselor training is offered twice a year. Next class starts in February. See www.evecenter.org for that and to participate in the groups, studies and face to face peer counseling. AND just a fun fact: over 10,000 volunteer hours in 2014 WHILE the budget is $150,000. There is no better investment to be made to change a woman's life in this region!