CINspirational People: Deanna Lewis
CINspirational People is a feature of Good Things Going Around profiling diverse people of Greater Cincinnati, what inspires them, and what is inspiring about them. You can read more profiles by clicking on the link at the top of the blog. Do you know someone to suggest? Please reach out. Thanks!
Today we are featuring Deanna Lewis, who won first price for her poem in the #ADA 25 Writing Contest held in Cincinnati. You can read her poem below.
Deanna is an advocate for people with disabilities and animals, and enjoys using her talents to advocate for others. As president of the Ohio Association of Guide Dog Users, she is a voice for both. Deanna and her guide dog, Mambo, are well known to everyone who works at and visits Clovernook Center For The Blind And Visually Impaired where she is a receptionist.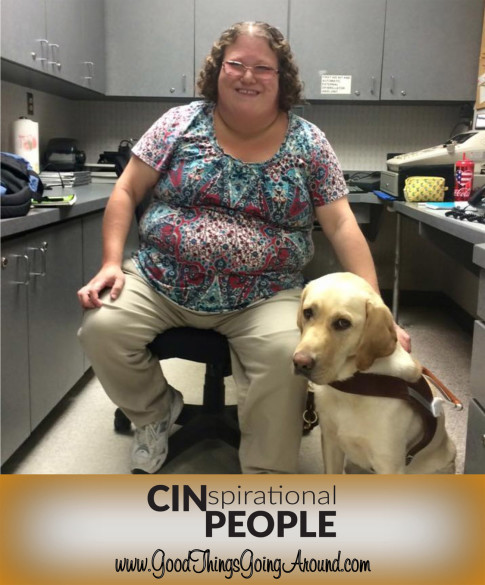 One of her long term goals is to pursue a career having to do with helping animals in a veterinary hospital setting, and she is well on her way. Deanna has volunteered at the SPCA Cincinnati and will be volunteering at a vet clinic soon.
Not surprisingly, Deanna's favorite places to visit around Greater Cincinnati are our region's beautiful parks, the Cincinnati Zoo and the Newport Aquarium.
We asked her a few questions:
GTGA: Tell us about something people may  not know about you.
Deanna: I enjoy writing and have written songs about guide dogs in the tune of Christmas carols.
GTGA: Tell us about one of your life changing experiences.
Deanna: It was when I accepted my blindness. I have always been legally blind and when I was in high school I needed to have the print really close to me. When I almost stepped off a three foot wall because I couldn't tell what it was, I realized I needed to do something. I began losing my vision in my 20s and got my first guide dog when I was 23.
GTGA: What do you want people to know about others who have disabilities?
Deanna: I want people to see those who have disabilities as being just like everybody else, just doing things differently.
GTGA: What advice would you give others about life?
Deanna: I would tell people that you have to work hard for your goals, no matter whether you have a disability or not. You can achieve them if you just put forth the effort.
#CINspiration
Deanna's ADA Poem
Being blind can be a drag
But, I just have to brag
Thanks to the ADA
I am able to go on my way
If I head to the museum
My Guide Dog is free to come
On a college campus
While riding in a city bus
Whether out to eat
Or on a spa retreat
Riding in a taxi cab
Or in a hospital lab
At any place of retail
To walking on a nature trail
While in a shopping mall
Or at a stadium watching football
Inside my local pharmacy
Or at the nearby library
While out to see a movie
I'm free to have my Guide Dog with me
In a swanky resort
And waiting in an airport
Daily trips to the gym
And at the city pool for a swim
Anywhere the public can be
So can my Guide Dog and me
At work, I can get the software I need
To do my job well indeed
The ADA gives me these rights
So that I can avoid many fights
So, the most important thing I can say is
Yay for the ADA!