CINspirational People: Lisa Graham
CINspirational People is a feature of Good Things Going Around profiling diverse people of Greater Cincinnati, what inspires them, and what is inspiring about them. You can read more profiles by clicking on the link at the top of the blog. Do you know someone to suggest? Please reach out. Thanks!
For this profile, I am profiling someone who I admire in so many ways. I first heard about Brewhaus Dog Bones at a Cincinnati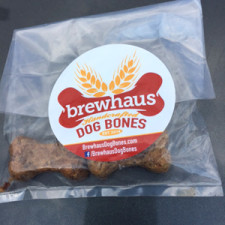 social enterprise conference and Lisa Graham is its founder and director. When you buy the tasty dog treats (I know they are tasty, as I have tested them on several dogs), you are supporting opportunities for young adults with disabilities to gain valuable life and work skills as they are involved in every aspect of making and selling the products.
You will learn a lot more about Brewhaus Dog Bones, Lisa and Lisa's inspiration for her organization in my interview with her below.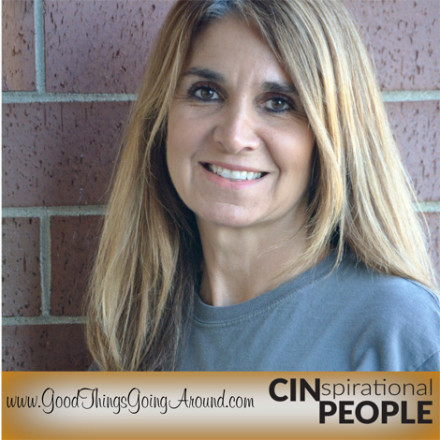 GTGA: What are Brewhaus Dog Bones?
Lisa: They are handcrafted, small batch, oven baked dog treats made from whole grains sourced from local Cincinnati microbreweries. Currently, Listermann Brewing Co./Triple Digit Microbrewery, Mt. Carmel Brewing Co., Rivertown Brewing Co., Bad Tom Smith Brewing, Paradise Brewing Supply, Eight Ball Brewing, Braxton Brewing, Fibonacci Brewing Co., and Old Firehouse Brewery support its mission by donating spent barley grains and product sales in taprooms/brewing supply stores.
And they are all made, marketed and distributed by students who have disabilities.
GTGA: Tell us more about how Brewhaus is helping people
Lisa: My goals with Brewhaus Dog Bones are to give young adults with disabilities opportunities that empower them in a way that they never would have otherwise experienced; and to change other people's perceptions of people with disabilities.
Brewhaus Dog Bones is a nonprofit, social enterprise that is currently working with eight local school districts including New Richmond, Mariemont, Sycamore, Williamsburg, Princetown, Mason, Oak Hills, and Cincinnati Public Schools to teach young adults life and work skills.  We do not charge the schools. We have no administrative costs so everything we make goes back into funding our programs. We are also working with the Clovernook Center for the Blind and Visually Impaired on an adult model that will create paid employment.
Schools create their own classroom and hands-on lessons around our product; and there are also opportunities to bring their experience out into the community. I provide the materials but students do everything from start to finish from planning/forecasting demand, making, baking, labeling and weighing bags, processing orders, attending community sales opportunities, calculating costs, and counting money.
Teachers and vocational trainers create their own lessons, and each stage has hands-on experience in math, entrepreneurship, marketing, communication and teamwork.
GTGA: Where does your inspiration for Brewhaus come from?
Lisa: My daughter, Natalie, absolutely. She loves animals and also loves to bake. Natalie has some disabilities and I have always thought, 'Is there something I can create to open opportunities for her and others like her?'
It was two years ago when we went to San Diego and visited a brewing company where they happened to have dog treats for sale. Then I began noticing treats in other places. It seemed like a great fit for Natalie. The association with our micro breweries seemed like a valid relationship.
GTGA: Have you ever organized anything on this scale?
Lisa: I have never started a nonprofit or anything that would required this much coordination, although I have always been a creative thinker and an organizer. I have gotten a lot of help.  I worked with SCORE and our local breweries have been very supportive and helpful, donating their spent grains. My graphic artist, Thommy Long of Lemon Grenade Creative, has been a great support and helped with the process as well too. (or whatever you want there)
GTGA: Tell us more about Natalie:
Lisa: Twenty one years ago, Natalie was a tiny baby (just three pounds) born at 33 weeks at Good Samaritan Hospital.  In her sheepskin, I remember she would wriggle to the end and she'd hit her head and would cry and they'd put her back. She is very determined. She has very good work ethic. Natalie loves animals and especially cats so I am trying to figure out cat treat. In fact, we partly went to San Diego to visit the zoo. We go to as many zoos as we can and especially where there are pandas.  As I mentioned, Natalie loves to bake and cook, and also likes school and learning. She is also very good at bowling and following directions.
Natalie has a chromosomal abnormality, which has caused her to have some developmental disabilities; however, she is doing great. She can read, write and do basic math and is very capable of managing most of her needs. She just learns at a different pace and has difficulty understanding complex things. She also has a 50% hearing loss which makes her speech sometimes difficult to understand and orthopedic issues sometimes cause her to have an unsteady gait.
What is your long term goal with Brewhaus?
Lisa: My goal is to eventually have our own freestanding "Brew Bakery" for supported employment and to continue as a vocational training site. Brewhaus hopes to create a micro industry in Cincinnati from the spent grains that will directly benefit people with disabilities.