Circus Mojo and Redwood Bring Out Abilities
Walking on stilts. Spinning plates. Balancing a feather on a finger. Juggling. Flipping hats. Making jokes. Laughing.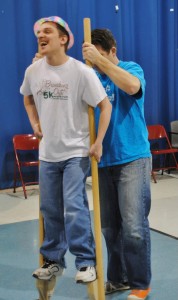 Sure, those are the skills you'd expect students to learn in a class on being a clown. However, for adults who participate in the Redwood Work Activity Center that class is more about strengthening social and motor skills, confidence, and self-esteem.
It's called CircAbility and the teachers are staff of Ludlow, Kentucky based Circus Mojo, a company that engages people of all abilities to focus on potential.
"By their reaching beyond their comfort zone in the class, our participants' willingness to try other new things now is off the charts," said Bridgette Hightower, community outreach coordinator for Redwood.
Lately they've been working extra hard practicing. That's because this Friday night they'll be showcasing their clown skills at Redwood's big annual fund raiser – this year themed Destination Under the Big Top. Over 800 people are expected to attend the event that last year raised over $130,000 for Redwood services.
About Redwood:
Redwood serves over 750 individuals through 24 comprehensive programs in five areas:  child development, technology solutions,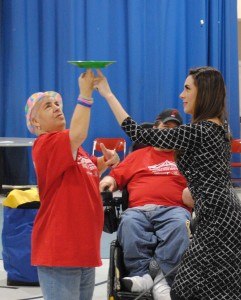 workforce success, adult independence and integrated therapy.
Redwood is home to the only Assistive Technology Resource Center in Northern Kentucky, and one of only four in the state part of the Kentucky Assistive Technology Service.  The center has assistive technology available for loan.
The Event:
Where – Receptions (1379 Donaldson Rd in Erlanger)
When – Friday night, March 1, 2013 from 7 pm to 11:30 pm
Cost – $65 at the door
More information:  development@redwoodnky.org or 859-331-0880