Ground Breaking For Cultural Campus Planned In Kennedy Heights
The racially and economically diverse Kennedy Heights neighborhood characterized by vacant buildings and payday lenders is about to undergo one of the region's most dramatic revitalizations. After nearly five years of planning, the Kennedy Heights Arts Center, along with partners Kennedy Heights Montessori Center and Kennedy Heights Development Corporation, will break ground on construction November 14 to transform the vacant and derelict building (on the corner of Kennedy Ave and Montgomery Rd) which once housed a Kroger into a vibrant cultural arts campus expected to attract thousands annually. I am working with them on media relations for the event.
Please click here to read a story in Soapbox Cincinnati.
The ground breaking will begin at 3:00 pm with the program portion beginning at 3:30 pm. City officials, Robert D. Lindner, funders, neighbors and school children will be in attendance. There will also be a performance by the Silverton Paideia show choir.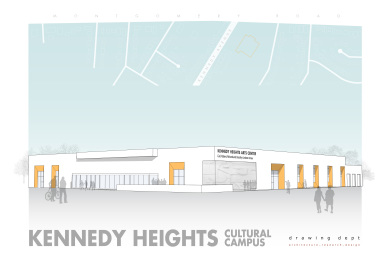 A decade since local residents joined to save a crumbling historic mansion and transform it into the Kennedy Heights Arts Center, that Center is now at the helm of this neighborhood transformation. The Arts Center's new second location in the Kennedy Heights Cultural Campus, located two doors down from their historic mansion facility, will quadruple the size of that Center and double the number of people served (to nearly 10,000).

When completed in 2015, the 10,500 sq ft Kennedy Heights Arts Center Carl, Robert, Richard and Dorothy Lindner Annex will include a 3,000 sq ft multi-purpose event center for theatre, dance and music classes, workshops and performances; a state-of-the-art Scripps Howard Media Center that will offer arts education programs for all ages in video, photography, animation, website design and graphic design; and ten individual artist studios. A gallery in the lobby will be a venue for resident artist exhibits.
A $250,000 leadership gift from Robert and Betty Lindner paved the way for the $700,000 project. Other major contributors include: Greater Cincinnati Foundation, Scripps Howard Foundation, George and Margaret McLane Foundation, The Kroger Co., John A. Schroth Charitable Trust/PNC Bank Trustee, Louise Taft Semple Foundation, Thomas Emery Memorial, Ruth and Robert Conway Foundation and gift from many individual donors.
For the Lindner family, this revitalization carries special meaning. The siblings (Carl, Robert, Richard and Dorothy) attended Kennedy-Silverton School as children, which was torn down to build Kroger and ultimately is becoming transformed into the new Kennedy Heights Cultural Campus. They also played in the yard of the former funeral home on the grounds where the Kennedy Heights Arts Center sits today. The late Carl H. Lindner and Robert D. Lindner have been generous supporters of the Kennedy Heights Arts Center since its founding, contributing a combined total more than $900,000 over ten years to support renovations and programming.
In addition to the Kennedy Heights Arts Center Lindner Annex, the Kennedy Heights Cultural Campus will include the Kennedy Heights Montessori Center and space for a third organization. A $675,000 grant from the City of Cincinnati helped the nonprofit, volunteer-run Kennedy Heights Development Corporation to acquire the building; and KHDC spent additional funds to stabilize it before this ground breaking.
For more information on the Kennedy Heights Arts Center, please visit: www.kennedyarts.org.