Kathy Davis Believes In Empowering Women
When I think about Kathy Davis, I am reminded of her smile that so often shines from her face. I think about her giving heart and all that she does for others.
Kathy is the private dining manager for Jeff Ruby's Steakhouse. She also volunteers a huge amount of time to help others, mainly through Women Helping Women, a Cincinnati nonprofit organization that empowers survivors of sexual assault, domestic violence and stalking; and educates the community about these issues.  Kathy is a former crisis team coordinator and Board member of Women Helping Women, who continues to stay involved through fundraising, leadership and other volunteer work.
Whether formerly serving some type of volunteer capacity or just reaching out a helping hand to someone in need, Kathy finds ways to make a difference.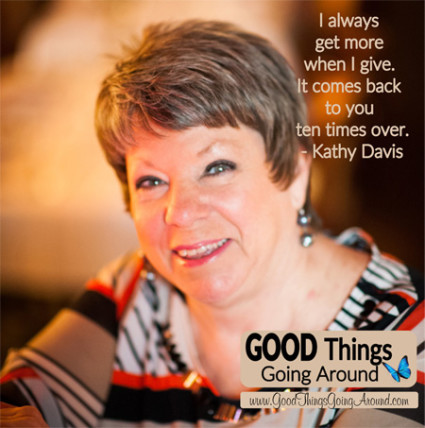 I asked her some questions to get to know more about her. Please read more below.
Lisa:       You are so passionate about Women Helping Women. Where does that drive come from?
Kathy:   I really discovered them when I was on the receiving end, looking for information on domestic violence because I didn't know how to help my own daughter when she was in abusive situations. The organization was terrific, not only with information but with other things like helping my daughter to get protective orders and referring her to a shelter.
They provide a very much needed service in our community.  It is about empowering women who have had so much taken away from them.  Many still are not aware of their services, and are scared and not knowing where to go.
Lisa:       How have you grown personally as a result of being involved with the organization?
Kathy:   I grew up always thinking that, as a woman, when something would happen that I could always fix it or it was my fault. After going through Women Helping Women's volunteer program, I realize I need to always trust my gut. I do not take responsibility for someone else's behavior.
Lisa:       How are you currently involved with the organization?
Kathy:   My largest role is as serving as the Chair for its Light Up The Night Gala fundraiser. It is an event that I began overseeing in 2007. They had been doing a dinner on a smaller scale and I wanted to make it something really big.  I asked a couple of friends to join me for coffee and brainstorm ideas about a new spring fundraiser, and it was at that meeting, Light Up the Night was born.We netted $52,000 that first year and it has grown ever since. It is my baby. Last year we hosted 500 people.
This year will be the event's 10th anniversary themed 'A Decade of Peace, Love and Understanding'. It will be April 28 from 5:30 to 9 pm. at the Horseshoe Casino.  The Gala includes dinner by the bite with tastings from some of Cincinnati's best restaurants providing tastes, a silent auction, raffle and more.
Lisa:       Outside of that, what are some of your simple pleasures in life?
Kathy:   I enjoy working in my yard and garden, and having quiet time at night. I also love beaches. Anytime I go on vacation it is always someplace warm and sunny.
Lisa:       Tell us about someone who has influenced your life.
Kathy:   I grew up in the 60s, the oldest girl in my family. I questioned alot why my older brother was allowed to do things that I wasn't. The answer was always, 'because he is a boy'. Gloria Steinem opened my eyes to equal rights. My mother was a stay at home mom, and I wanted to do more. Gloria helped me realize I could do it all – stay at home, work and volunteer.
Lisa:       Tell us about an act of kindness that has touched you.
Kathy:   In 2006, our house caught on fire with more than $100,000 in damage. That night, I called a friend who used to work at Crossroads Community Church, where I attend. She dropped everything and said, 'What do you need?' She called others she knew who worked in the construction business and they left their Friday activities to come over. They measured my windows, went to purchase what they needed and boarded up my house. Others from my church, many people who I didn't even know, were donating things to help us with our immediate needs. I went to church one day and someone told me to go to the Information Center where there were huge bins of donations. And people who went with me on an earlier mission trip to South Africa also showered me with donations. We needed to move temporarily, and Upspring, formerly Faces without Faces, provided us with tokens for the bus and gas cards so that my granddaughter) who was staying with Kathy) could continue to go to school. It was a very humbling experience. It is difficult for me to reach out to others and ask for help when I need it but this taught me it is okay to ask.
Lisa:  What would you tell other people about giving back?
Kathy: I always get more when I give. It comes back to you ten times over.