Nonprofit spotlight – Wellness Community Has A New Name
Cancer. There probably are few words that inflict so much fear in a person…fear of the unknown and of the treatments that lie ahead and all of the implications that go along with them.
We're so lucky in Greater Cincinnati to have an organization like the Wellness Community that is all about ensuring those whose lives have been impacted by cancer don't have to face it alone.
The agency provides professionally led support groups, individual counseling, educational workshops, nutrition and exercise programs, and stress reduction classes designed to complement conventional medical care.  All programs are available at no charge, with each individual participant choosing which activities to attend.  Each month approximately 150 programs are offered in a comfortable, home-like environment at the Lynn Stern Center in Blue Ash and a Northern Kentucky facility in Ft. Wright, as well as partner locations in Avondale, Clifton, downtown, and Western Hills.   In 2010, the organization recorded nearly 16,000 participant visits.
Now the Wellness Community has a new name – Cancer Support Community – Greater Cincinnati/Northern Kentucky (CSC) – that reestablishes its identity with its parent organization and better communicates its mission.
"More than 14,000 people in Greater Cincinnati and Northern Kentucky are diagnosed each year and research shows that medical care alone does not adequately address the emotional, social, spiritual, or financial challenges associated with the disease," said Executive Director Rick Bryan.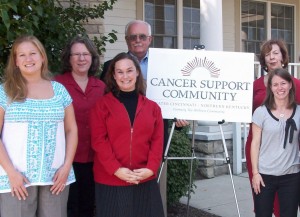 Staff members preview the new name. (L to R) Molly Bomkamp (Madeira), Bonnie Crawford (Wyoming), Kelly Schoen (Madeira), Rick Bryan (Blue Ash), Gail Laule (Sycamore Townhip), and Molli Monk (Montgomery)