Paw Joggers Run To Benefit Cincinnati Dog Rescues
I have always had a love for dogs. Our home in fact was never without one growing up. Jolie, our poodle, was a dear and special friend to me until she died at the age of about 18. Now training dogs as a second career is a real passion for me.
And for Billlie Mendoza, owner of Paw Joggers, keeping dogs healthy and happy is an equal passion. I am so impressed that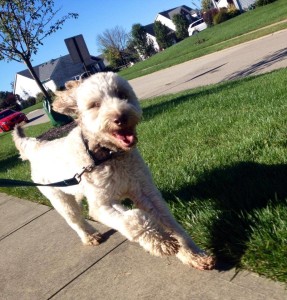 now, this owner of a successful dog walking (and jogging) company is turning her business skills toward raising money for our area's important rescue organizations.
The first annual Paw Joggers Run will be this Sunday, October 20 at Sharon Woods (11450 Lebanon Rd, Sharonville, OH 45241). There is both a 5K and a 2K course for runners and walkers. It is a pet-friendly and family event so bring your favorite four-legged friend with you. Registration that morning begins at 7:30 am and the race begins at 9 am.
What I love is that 100% of the registration fees ($35 to $35) will go toward one of 24 qualified organizations from our Cincinnati area animal welfare community. You can select a beneficiary as part of your online registration process if you'd like. NOTE that there is a $15 canine registration fee per dog.
The Paw Joggers Animal Community Fund (Paw Joggers ACF) is a nonprofit organization dedicated to supporting the local animal welfare community through events, awareness, and monetary donations.  The Paw Joggers ACF and its events are powered solely by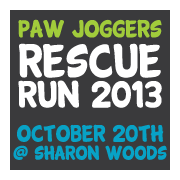 volunteers.
Register to walk, run, or VOLUNTEER through the Paw Joggers Rescue Run website http://pawjoggersrescuerun.com