Tactile Artist, Harriet Kaufman, Opens Cincinnati Exhibit
There is a unique new exhibit in Cincinnati where visitors are encouraged to appreciate art through their sense of touch.
The tactile 'Hands on Art' exhibit at the Willoughby Art Gallery at the Clovernook Center for the Blind and Visually Impaired features the wonderful work of Harriet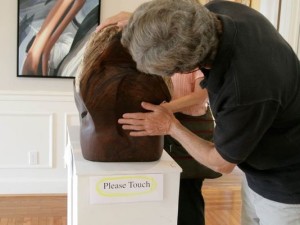 Kaufman. Over the past 16 years Harriet has sculpted limestone, walnut, birch, steel, duct tape and fabric. Her work is featured in private collections throughout the United States and abroad…including at our Cincinnati Art Academy, Baker-Hunt, Harriett Beecher Stowe House, Kennedy Heights Arts Center, and the YWCA.
Ruth's exhibit will run from September 5 to 26, 2014 with an opening reception this Friday from 6 to 9 pm. The Willoughby Art Gallery features art by people who are blind or visually impaired and art that is tactile. Gallery hours are 8 am to 5 pm Monday to Friday, or by appointment. It is located in the Proctor Center at 7000 Hamilton Ave, College Hill in Cincinnati.