Actor Danny Woodburn – Thanks For Being You!
Have you ever tried to interview a good friend who you really admire? A friend who you want to write about because you feel like the world should know what a great person he is? A friend who you start talking to about one subject and then find yourself going in a million tangents because conversation is just so easy?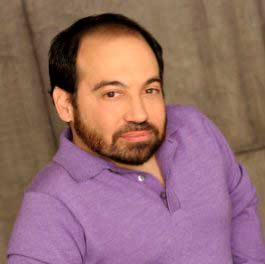 Well, that has happened to me. And unfortunately with our busy schedules, when I couldn't get in the questions I really wanted to ask Danny in our 40 minute time allotment, we just haven't been able to reconnect. But I want to boast about Danny and I want to do it while you still have time to go to the theatre and see him on the big screen as Grimm in Mirror, Mirror. So…here goes.
I'm talking about Danny Woodburn – a funny, brilliant, quick-on-his-toes, loyal person who anyone would be proud to know. He is a gifted actor and comedian who became widely recognized after playing the role of Mickey, Kramer's friend on the NBC hit sitcom Seinfeld. But he has also been in so many other television shows and movies including Death to Smoochie with Robin Williams.
And, some years back, his Cincinnati fan base grew after we brought him to town to speak at the Inclusion Leadership Awards. Not a person left that evening untouched by the powerful words of Danny about what it means to be included. He is a strong voice for those who do and say things differently.
It was of no surprise to me to learn that in October, 2010, he was honored with the Screen Actors Guild Harold Russell Award in Beverly Hills for his advocacy on behalf of performers who have disabilities.
 In his award acceptance, Danny had this to say…"I was told, 'No—you can never be a truck driver, you're arms won't reach around the wheel. No—you can never be a doctor; people won't take you seriously. No—you can never be a police officer.'

"I can be all of those things. I'm an actor. I can portray them in film and someone might be inspired to ignore those nos and live their own dream."
Danny, you are so right.
His journey to television and films began as a little child. He credits his grandfather for his sense of humor.  "He was a great story teller," Danny told me, remembering the time they were sitting around the dinner table when the chair leg of his 80 something year old grandfather broke and he landed on his back on the kitchen floor. "He just looked up and said, 'can you move the table a little closer?'"
Once Danny figured out he could make people laugh, he began acting out the lyrics to songs. In the first grade he got in trouble for instigating a chase scene around the classroom. Kids would run after him while Danny ducked and got away. It was exciting and became their daily routine. And Danny stayed after school a lot because of it.
After studying theatre at Temple University, he became a teacher for an African American youth theatre company and then used that money to move to L.A. Jobs were here and there but he was able to pay the bills. Well, he did sell cowboy boots too..and had to wear them for the job.
Eventually, people in the industry came to know him.
Fast forward to March 30, 2012.
Danny was featured in the Wall Street Journal about playing one of the dwarfs in Mirror, Mirror.  In addition to Danny's fun sense of humor, I admire him so much for his unwavering leadership when it comes to standing up for what is right and what he believes in. Of his role in Mirror, Mirror, he told the Wall Street Journal, one word almost caused him to abandon his job on the set…that word in the script was 'midget.'  But, just as he did when he played the role of Mickey in Seinfeld, Danny used this as an opportunity to educate the filmmakers. Not only did they rewrite the script without that word, they then took elaborate steps to listen to the views of all of the actors on the set who have dwarfism.
There are a number of great lessons here – among them, don't be afraid to speak up for what you believe in and use it as an opportunity to educate. On the other hand, think about how your words and actions are going to impact others. There is absolutely nothing wrong and everything right about asking the question if you do not know.
 To my friend Danny, I have these words for you:
Thank you for making us laugh and making us cry. Thank you for educating us and giving us thought. Most of all, thanks for being you!
For radio interview with Danny 104.3 FM, please click here.
A post I wrote about Danny being in Cincinnati is at this link.