Good People Doing Good Things: Dan Andriacco
Many people like me know Dan Andriacco either from his days as reporter and editor at The Cincinnati Post or his current position as communications director for the Archdiocese of Cincinnati. But, until today, I had no idea Dan also is an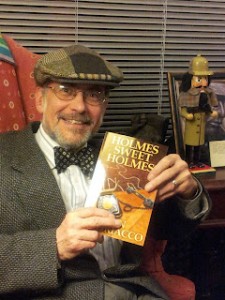 accomplished mystery writer whose third book in a series, The 1895 Murder, will hit the book shelves November 1.
I did some research. On Amazon.com where you can easily find his books, there are reviews. Four and mostly five star ratings consistently.
Dan's fascination with mysteries began early. He discovered Sir Arthur Conan Doyle's original Sherlock Holmes stories when he was nine years old and couldn't stop reading. Next came Agatha Christie, Ellery Queen, Rex Stout, and many others. Not surprisingly (although unknown to me), it has long been Dan's career goal to be a mystery writer.
Dan's Sebastian McCabe – Jeff Cody mystery series, set in a small town in Ohio, is very much in the tradition of his Golden Age favorites.
"McCabe is a great detective in the classic mode," Dan wrote on his blog. "By that I mean he is a polymath amateur sleuth. He's a college professor at at small Catholic college, but he's also a mystery writer, a magician, and a linguist. I would love to meet the man, but I'm not sure I'd want to be his best friend.
"His 'Watson,' Jeff Cody is not only his best friend, but also his brother-in-law and the public relations director for the college where Mac teachers. These multiple relationships carry multiple tensions, which I hope is a source of humor. These books are supposed to be fun and funny. Judging by reviewers, they seem to hit that mark for most readers."
I admit, I haven't been much of a mystery reader until now but I think now I have a reason to become one.