Group Health Associates Employees Filled 39 Backpacks For Beech Acres Kids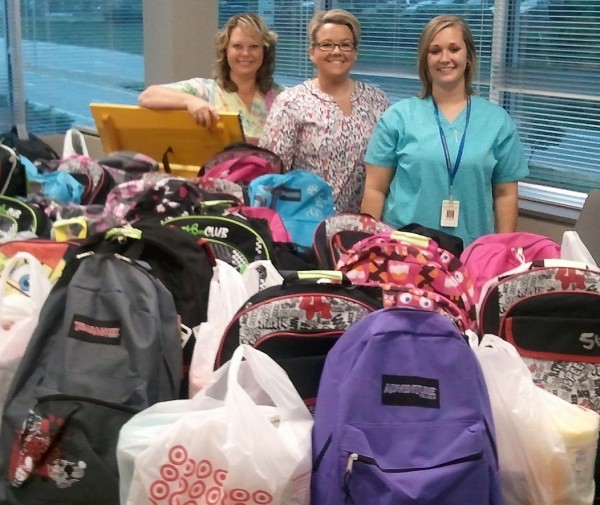 For parents with financial hardships who are learning through Beech Acres Parenting Center how to better help their children thrive, having to worry about paying for school supplies makes that job even tougher. Seventy employees of Anderson's Group Health Associates removed that obstacle by donating school supplies for 39 children through Beech Acres's Fill-A-Backpack collection.
The GHA effort led by Heather Murray, Allison Dill and Lindsey Laine through the company's Care Committee. They created a 'giving bus' and posted tags with needed supplies on it. Employees chose a tag and purchased those items. Enlarging their impact, Dill recruited employees of GBBN Architects to donate additional supplies.
 "This effort really builds employee morale. Because we feel great working together to give back to our community, we can give better customer service here," said Dill, a certified medial assistant in pediatrics at GHA.
Thanks to the generosity of Group Health Associates and GBBN Architects employees, and other community donors, Beech Acres Parenting Center was able to provide filled backpacks to 150 children whose parents are working on strengthening their skills for nurturing positive growth.
Beech Acres Parenting Center supports parents and caregivers in the most challenging and important job of their lives: raising children today who are able to thrive tomorrow.  With a mission of Strengthening Families for Children, Beech Acres provided over 17,000 services for children, parents and educators across greater Cincinnati last year with a broad range of unique services in homes, schools and in the community to strengthen parenting and relationship capabilities.  For more information, please visit www.beechacres.org